Nordics at Barcelona Smart City Expo: Together we are stronger!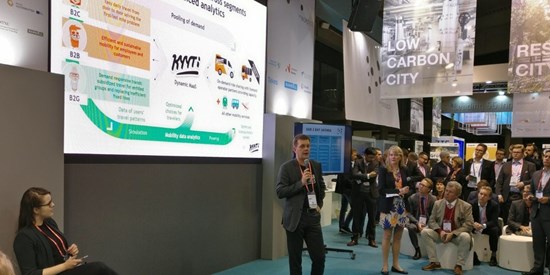 Finnish companies and cities were at the stage together with the Danish, Norwegian and Swedish colleagues at Barcelona Smart City Expo 14.-16.11.2017. The Barcelona event was a success: the event gathered almost 20 000 visitors and the Nordic pavilion was highly recognized.
For the first time in the history, Nordic collaboration was concretised with the joint pavilion at the Expo. The Nordics had as large stand as e.g. Microsoft or Huawei. Themes of the pavilion were ICT and IoT, Mobility and Transport as well as Co-creating smart cities. The Nordic pavilion hosted large cities from each country: Copenhagen and Aarhus (DK), 6Aika and Tampere, Vantaa Aviapolis, Joensuu together with Jyväskylä (FI) as well as Stavanger, Trondheim and Bodo (NO). In addition 36 Nordic companies provided their solutions to all smart cities. All together around 100 Finnish participants explored the Expo.
Joint program for the Nordic participants was prepared together with Tekes, CLEAN (DK), Innovation Norway (NO), Cleantech Scandinavia (SE).The Nordic program included e.g. pitching session for the companies, delegates receptions, Nordic Roundtable-workshop on city challenges a, Meet the Nordic –city sessions together with speed-dating possibilities for companies as well as Nordic networking dinner. The Nordic pavilion raised interest among other exhibitors, and delegations from the City of New York, as well from Australia, The Netherlands and Taiwan paid the visit to the pavilion.
Besides the Nordic Super Tuesday the Finnish Pavilion was filled with active program arranged by the cities. City of Tampere had a reception presenting the Smart Tampere Growth program together with companies, and 6Aika cities presented innovations platform economy development. City of Vantaa, in turn, presented 10 companies providing smart solutions for Aviapolis area.
The expo experience summarized by the Finnish participants was very positive:
"The Nordics is a strong and impressive brand in the global market. Companies have been grateful for all contacts created here at the Nordic Pavilion"
Anu Peltola, Business Advisor, City of Vantaa, Aviapolis
"Great and very well-functioning concept. At the Nordic Pavilion it is easy to make new contacts with interesting target groups. The Nordic Pavilion opens business possibilities and contacts with both cities and companies."
Vesa Jaakkola, VP Sales, Leanheat
"The Nordic co-operation collects critical mass to create interest towards the Nordic Pavilion. The Nordic Pavilion has more added value than separate pavilions of each Nordic country."
Pekka Niskanen, COO, Kyyti Group
"The Nordic concept works well! Our main business area is the Nordic countries so the networks and contacts made in the Nordic Pavilion are very important to us. This co-operation creates also easy access to global markets."
Jukka Kettunen, Head of Urban and Real Estate Development, A-ins
The Finnish cities at the Barcelona Smart City Expo 2017:
6Aika: Innovation platform economy development
Vantaa, Aviapolis: The fastest-growing business hub and employment center in Finland

24 Rental Network: Car-sharing and Rental Services
Vediafi: Smart Mobility Applications
FLOU: Urban Research for Transportation and Mobility
Esri Finland: GIS Solutions
Vionice: Infrastructure Management and IoT Solutions
GoSafe: Personal Safety Applications
SkenarioLabs: Data-analytics for Property Management
PlantSteps: Green Wall and Vertical Garden System
Arctic Robotics: Autonomous Indoor Flying Robots
Polku Innovations: IoT-solutions
Tampere : Smart Tampere program brings together local and international actors to enable digital solutions and to develop these solutions into exportable products.

Citynomadi:Map based information on city areas
Globeon: test and see how bluetooth beacons work in positioning
Infotripla:utilizing real time traffic data cost-effectively in urban traffic management

Joensuu: Joensuu is looking forward to the realisation of investments in the symmetric city centre, green industrial park and public buildings by 2030.
Jyväskylä: Jyväskylä is world-renowned for sport and health science and a hub for this industry in Northern Europe.
Sipoo: The fastest growing municipality in Finland aims to grow sustainably and to be a digital pioneer in the Finnish public sector
The Finnish companies at the Expo 2017:
PayIQ : cloud-based intelligent mobile solutions for public and private transport
Sitowise: improving the maintenance of the basic registers, zoning and building control , the management of infrastructure property as well as mobility and transport services through cloud based services
Future Dialog: enabling engagement and creating dialog among communities and cities
A-Insinöörit: providing Cityfier, a digital service that applies latest game engine technology to measure distances between the qualitative components of future neighbourhood
Kyyti: the world´s first Mobility as a Service solution with on-demand ride sharing capabilities
Witrafi: smart parking applications
Flextila: a space management service which enables space optimization and effective use of meeting rooms, non-bookable spaces, collaborative spaces, storages, parking slots etc.
Leanheat: IoT solutions that aims to decrease heating and maintenance expenses in residences and to make the business of district heating companies more profitable
Pilaster: development and rollout of innovative and energy efficient building engineering solutions
Ramboll: smart and sustainable cities from silo-thinking to a holistic approach

More information
Witty City Programme manager Karin Wikman, + 358 50 557 7723, karin.wikman(at)tekes.fi
Witty City Programme activator Maarit Vuorela, + 358 400 702 339, maarit.vuorela(at)ramboll.com