Finland works
Finland has an outstanding infrastructure. Whether it's ICT networks, electricity supply, or air, sea, rail and road traffic, it just works in Finland.
Reliable
infrastructure
Practical Finns show a strong commitment to functional infrastructure. Finland was a forerunner in rolling out 3G networks, and has recently launched the most advanced 5G test network in the world. We also have some surprising infrastructure advantages, such as a stable rock-based ground formation and cool weather that are ideal elements for establishing data centres. In general, Finland is a country where everything works.
The recently completed, ultra-fast and cyber secure submarine cable connection from Helsinki to Rostock in Germany establishes a new digital highway between the two countries. And with Finland's proximity to Russia, this data connection is an essential bridge between Russian and European markets. The planned extension of the cable connection via the North-East passage also highlights Finland's strategic location between Europe and the rest of Asia.
Finland has attracted major data center investments from companies like Google, Telecity Group and Yandex thanks to its cool climate, highly skilled IT-professionals and well-functioning infrastructure. The lower electricity tax rate is set to further boost Finland's competitiveness as a cost-effective location for data centers.
[IMAGE: Electricity transmission realiability, source: Fingrid]
Companies in Finland can depend on a highly reliable and cost-effective power supply to run their business with maximum efficiency. Finland's power generation, transmission and distribution systems are highly efficient and the price of electricity is among the lowest in Europe.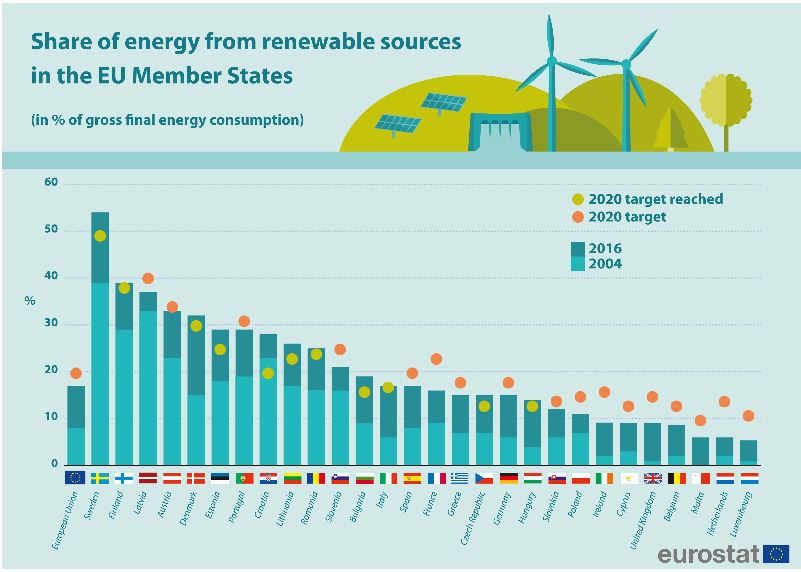 Share of energy from renewable sources 2004-2016, Eurostat
When it comes to sustainable use of natural resources, Finland is one of the best in the world. Energy production from solid biomass, biogas and wind power has increased in recent years. Currently, 39 % of energy in Finland is produced from renewable sources. Power generation is decentralized across more than 400 power stations, which use several different production technologies and raw materials. This diversified approach ensures a very stable energy supply and has kept the price of electricity, natural gas, wood and peat at a competitive level.