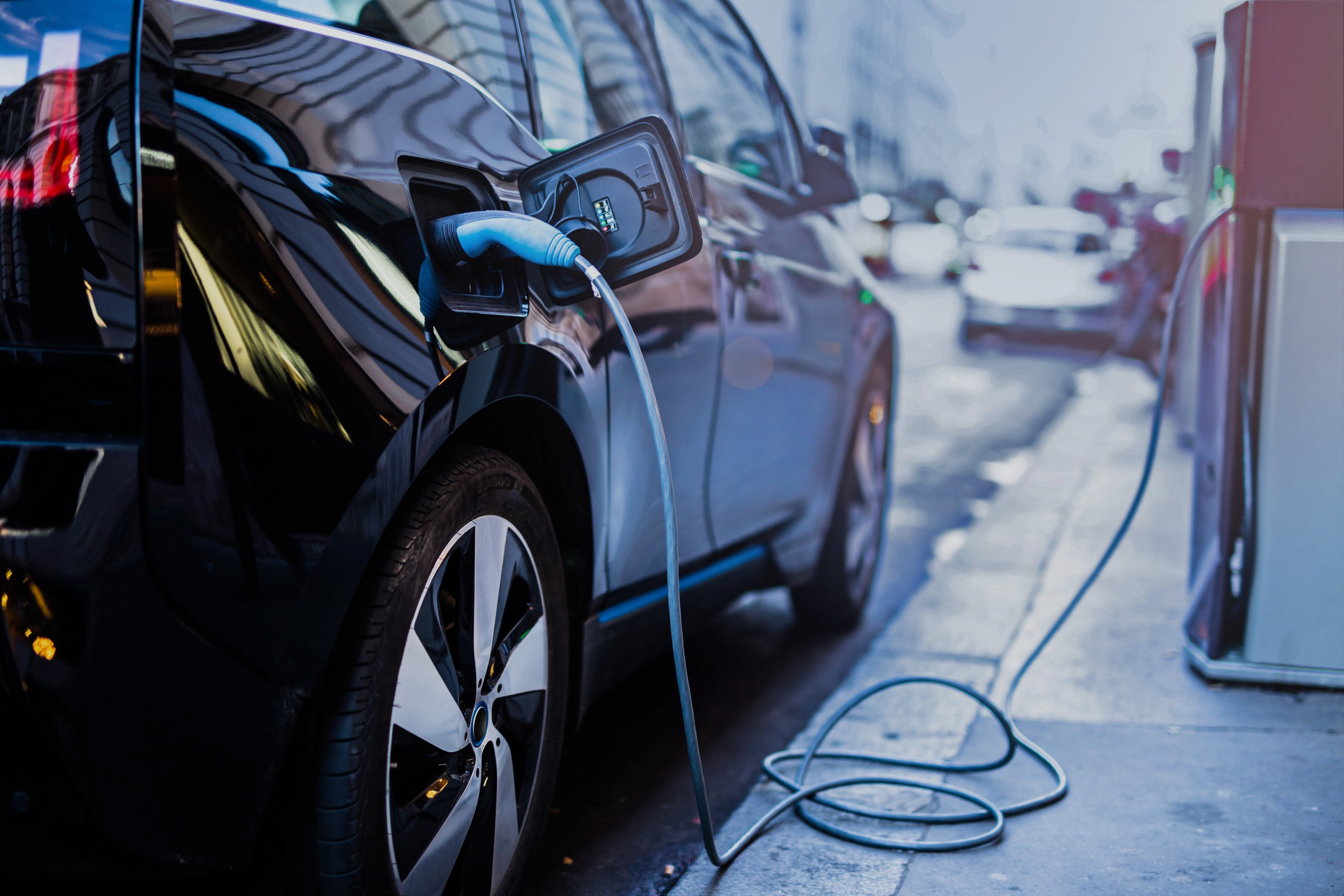 CleanWeb program helps Cleantech companies grow and improve financial performance through digitalization and consumer-driven business models.
Scalable Cleantech Business from CleanWeb
The CleanWeb program helps cleantech companies grow and improve financial performance through digitalization and consumer-driven business models.
About program
Cleantech is growing as mobile technology provides opportunities for new business models. The winners of the future will be those who provide customers with digital services as well as products. A leap to the next level, from cleantech to CleanWeb, lies ahead. The cleantech consumer market is growing and holistic solutions and services are being sought to meet customer needs.
The program's objectives
CleanWeb aims to create rapidly scalable cleantech business operations and accelerate the market entry of SMEs in the sector.
The aim is to make cleantech into a competitive growth sector by leveraging digitalization and new innovations and practices. We also aim to increase the expertise of cleantech companies, especially those in the consumer market, in making customer value tangible and communicating more effectively on their own solutions. The program involves active communication on developing the competitiveness of SMEs.
Focus areas of the program
digitalization
consumer businesses
solutions that promote the circular economy
promoting access to the US markets
CleanWeb services
The CleanWeb program opens doors to domestic and international networks and business accelerators. We also organize networking events, business coaching and training. The program provides funding for cleantech solutions.
open doors to the world's best business acceleration centers
matchmaking events and networks
business coaching and training (including NABC training and a How to Attract Investors Workshop)
funding for the development, piloting and demonstration of cleantech solutions
Team Finland services and international networks
Funding
The CleanWeb program provides funding for projects related to the cleantech theme. The full range of Business Finland's funding tools are available for project funding.
CleanWeb funding prioritizes projects that leverage digitalization to increase the competitiveness of businesses. The program also offers funding for projects through which companies are seeking to internationalize. Such projects may include activities such as market and competitor surveys, the creation of market entry plans, participation in business accelerators, or international pilots and demos.
Funding is also available for increasing customer insight with regard to consumer solutions, leveraging service design, and brand development.
Runway to the US market
The US market offers golden opportunities for Finnish cleantech and circular economy firms. In California, the world's fifth largest economic area, big investments are being made in clean solutions and new innovations are in high demand.
In 2018, Business Finland is offering companies tailored services and business coaching to help them enter the US market.
Experiences in entering the US market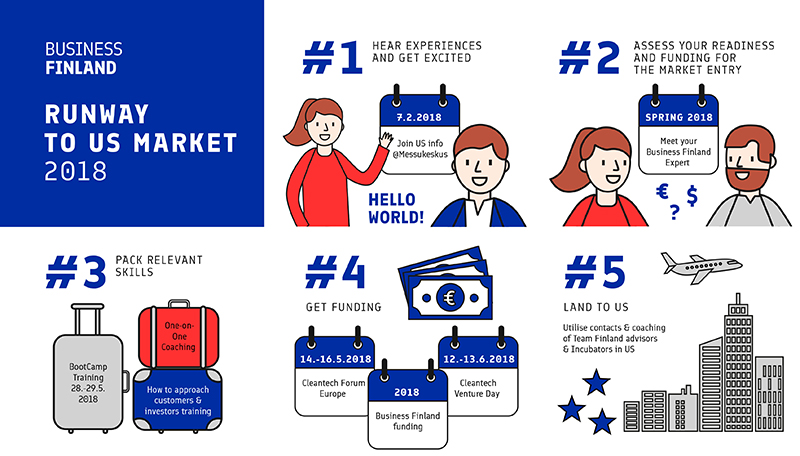 Boldan is introducing Finnish pipe renovation expertise to the world
Boldan, a leading Finnish supplier of lining materials and solutions used in pipe renovations, is one of the growth-oriented companies to receive a grant from Business Finland's CleanWeb Program. It was selected last fall for coaching, on how to enter the US market, in the Los Angeles LACI incubator. The company has tripled its number of staff in just half a year, and established offices in Florida and Singapore.
Why the US market?
We asked companies that participated in the USA Bootcamp in June 2018 why they are seeking entry to the US market in particular. Watch a video on the insights and experiences of companies on entering the US market.

Materials of runway events
Boost your growth and sales in USA 1.6.2018

BootCamp 28.-29.5.2018

Boost for the internationalization and sales of cleantech and circular economy firms 7.2.2018
Paths to conquering the US market
In the fall of 2018, we will arrange an event for companies currently aiming to enter the US markets, where we will offer networks and help your company to achieve customer insight on the US market.
Nevada
Nevada's location makes it the perfect port for accessing California's massive cleantech market. Las Vegas, the largest city in the state of Nevada, is known as the data hub of the US. Nevada also offers a business-friendly environment in terms of taxation. Business Finland aims to take Finnish cleantech companies on an exploration of the market opportunities offered by Nevada. Waterstart is an example of a Nevada-based innovation developer for companies in the water sector, which offers services such as piloting opportunities. If you are interested in market opportunities in Nevada, please contact:
Head of Cleantech Industry Ilkka Homanen, Business Finland
ilkka.homanen (at) businessfinland.fi, +358 (0)44 577 4430
Our experts helping you around the world
Our Business Finland advisers based in Finland (CleanWeb program team and customer service managers) will help you to prepare, and our international business advisers in the US will open the door to the market for your business. They have networks to potential customers, partners, financiers and local business accelerators.
Contact our experts:
Aki Luukkainen, International Business Expert, Los Angeles
aki.luukkainen (at) formin.fi
Veijo Komulainen, International Business Expert, New York
veijo.komulainen (at) formin.fi
Check Team Finland experts' tips for market access and growth in the US
International business accelerator programs
By participating in an overseas accelerator program, you can accelerate your entry to the US market, validate customer needs, and build a business in the target market. Read more about international accelerator programs.
Cleantech sales week 12.-16.11.2018
A week-long trip to Los Angeles and San Diego to promote a business's sales in the USA. Meet both private and public potential customers in California and other selected regions in the USA.
Contact person: Aki Luukkainen, aki.luukkainen (at) formin.fi.
Check what opportunities Cleantech Sales Week can offer to your company:
GAP program
The GAP program offers a market entry plan for the US market. An international market entry plan will be drawn up for your company during the intensive six months of the Global Access Program. The plan will be prepared by a team of experts completing MBAs at UCLA, who have been hand-picked for each company in question. Further information: Teemu Varonen teemu.varonen (at) businessfinland.fi
Amcham
Amcham is an international business community that helps companies to internationalize for entry to the US markets, for example.
Services and events arranged by other parties
Contact person: Ilkka Homanen, Head of Industry, Cleantech
Business Finland, Ilkka.homanen (at) businessfinland.fi
Tools for increasing customer insight
Understanding customer needs is essential for good service and product development and successful marketing. These materials and studies will help you to gain customer insight.
Boost to growth based on cooperation between large and small companies: