Hämeenlinna workshop: What kind of know-how will be needed tomorrow?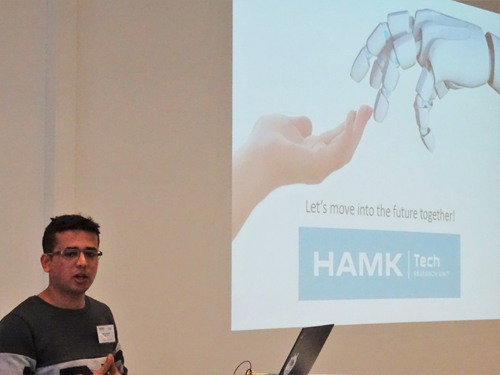 HAMK's researcher Milan Gautam talked about the current state of collaborative robots (cobots) and their potential. The low cost and fast deployment of the equipment provide a rationale for investment also in small series production. In the case of cobots, protecting a person does not require heavy structures, so the payback period for the entire investment can be even less than a year in the best-case scenario.
The use of 3D printing is increasing rapidly, especially in the manufacture of plastic products. There are only a few devices for printing metals in Finland, even though there are thousands of devices worldwide. Markku Lindqvist, Technical Director of Delva Oy, also believes in the profitability of printing metals and the company will soon be investing in new technology. One of the challenges of 3D printing is the new type of design required to take advantage of the method's competitive advantage. According to Lindqvist, design expertise is the key element for integrating, among other things, the lightening of structures, the optimization of flows and assembly, leading to complex products being made in one piece, which is not possible with conventional methods.

In the discussion part of the workshop, the lack of knowledgeable resources was concretized by examples from companies. In accordance with the spirit of the workshop, thoughts and ideas flowed freely and it was recognised that particularly the workforce produced by vocational education and training required extensive retraining. In practice, companies are forced to recruit foreign workers or retrain new graduates due to the scarcity of resources. For small businesses, the situation is considered unreasonable. Learning at work alongside studying was presented as a solution. One way could be for a company to select a person for vocational training and at the same time offer the chosen student a training or job opportunity. The targeted training provided by the Centers for Economic Development, Transport and the Environment (ELY Centers) was also highlighted during the discussion, making it possible for companies to acquire specific know-how for their own needs.