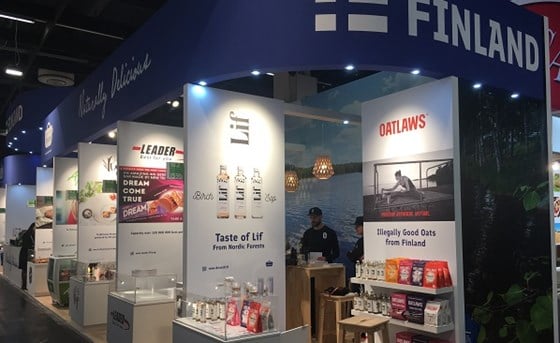 ANUGA is the world´s leading food fair for the retail trade and the food service and catering market. Numerous sources of inspiration across more than 280,000 sqm of exhibition area, pioneering trending topics, an attractive supporting program and great business opportunities: all this awaiting you at the leading international trade fair ANUGA.
Around 165,000 trade visitors from 198 countries attended Anuga in Cologne 2017.
Finland will be present at ANUGA with two stands: 100 m2 Food from Finland country pavilion as the main stand in Fine Food hall and also another stand for beverage companies in Drinks hall. The space of the pavilion in Drinks hall depends on the amount of registered companies. We need registrations for drinks hall already by 30.11. but to the main stand registration is open until the end of this year or until all places are booked.

The stands will be carried out under Food from Finland – brand, with a stylish Finland – twist, reserving space for all participating companies. Your company gets more exposure, can make a more efficient marketing and will save you time and money by participating in the joint stand.

Food from Finland program remarkably finances the stands and takes care of the pre-marketing, which adds a special visibility and provides its exhibitors more opportunities for marketing.
Participation cost per company:
7 500€ for small and medium-sized companies
9 800€ for large corporations (VAT not included)
Newcomer's price 5 000€ (for those small and medium-sized companies, who have not participated ANUGA with us before)
Food from Finland members get 10 % discount of the participation fee.

Book your place in the Food from Finland –country pavilion in Fine Food hall by 31.12.
Book your place in the Food from Finland –country pavilion in Drinks hall by Friday 30.11. By that date we need to confirm the size of the stand or cancel the booking.


Registration is binding. The places will be shared in order of registration.

We reserve the right to changes.

Cancellation policy:
Cancellation fee is 50% of the participation cost after binding registration.
Cancellation fee is 100% of the participation cost if cancelled less than 90 days before the beginning of the trade fair.