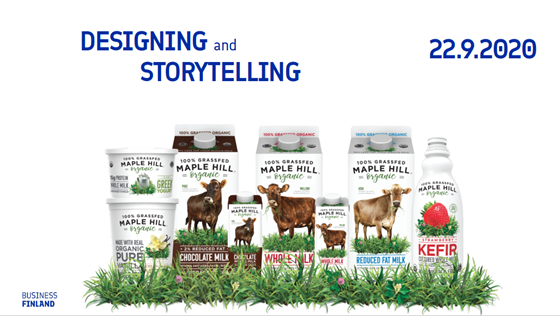 The programme is for companies who wish to expand their understanding on packaging and its role in food export. The coaching is in English and it is free of charge.
The program is carried out as a series of webinars which consist of a keynote speech and workshops.
Keynote speech: 9.00-10.00, open for everyone
Workshops: 10.00-11.30, limited number of company spaces. Available spaces are filled in order of enrolling. Companies participating in workshops will be given a pre-assignment which will be discussed in guided small groups. The results are made available to the company for later use.
Webinar program
9.00-10.00 Keynote speech for all
Coaches: Anssi Kähärä, Werklig and Renne Angelvuo, Win Win Design
Anssi Kähärä: The power of storytelling in brand, design and product packaging

Renne Angelvuo: The impact of a strategic brief for a winning packaging and brand design. Duration: 1 hour
For companies enrolled for workshops Workshops in groups: What kind of story does my product communicate?
10.00-11.30 Workshops for companies enrolled (limited spaces available)
What kind of story does my product communicate?

Guided workshops with individual feedback. Duration: 1 hour

Presenting group work results Duration: 30 minutes
Keynote Speaker: Anssi Kähärä, Creative Director & CoFounder Werklig Helsinki, Finland
Anssi Kähärä is the co-founder and creative director of Werklig, a strategic brand design agency based in Helsinki,, Finland. Currently he also acts as the Chairman of Grafia (Association of Visual Communication Designers in Finland)
With a multiple list of awards and nominations from around the world Anssi has been in charge of creating brands and visual identities for such clients as Parliament of Finland, City of Helsinki and Kyrö Distillery Company.
He has over 20 years of experience from the field of graphic design and branding.
Keynote Speaker: Renne Angelvuo, CEO WIN WIN DESIGN LTD. Helsinki, Finland
PROFILE: Renne Angelvuo, founder of WIN WIN DESIGN in Helsinki, has made his 40+ year career in branding, packaging, industrial design and marketing communications. He's been working with some small and big Finnish and international brands such as BIOKIA, FAZER, LINKOSUO, MySQL, NESTLÉ, NOKIA, METSÄ TISSUE / SAGA, STORA ENSO, SAARIOINEN, UPM KYMMENE, VALIO. His latest lifestyle product case, "The Finnish LONG DRINK Legend of 1952", is an ongoing packaging and branding project for the American markets.
Renne is widely connected in the international design world and has now been a jury member at RED DOT DESIGN AWARDS several years in a row. He also lectures and speaks on several national and international forums. Renne was also President of EPDA 2015 - 2018 and has been a member of the board since 2008. Today he acts as an Ambassador of EPDA. Over the years, WIN WIN DESIGN has been awarded some international awards including the Red Dot Grand Prix & Best of the Best as well as Pentawards in packaging design.