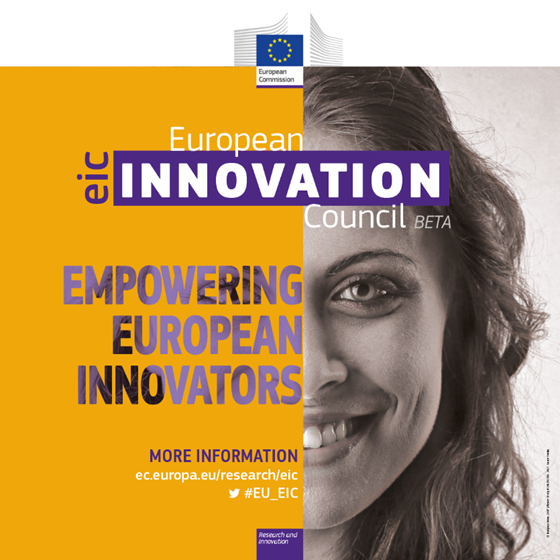 European Innovation Council (EIC) Roadshow
Experts from the European Commission will hold a policy discussion and an information session on the European Innovation Council (EIC). The policy discussion will explain the rationale behind the Enhanced EIC Pilot, while the information session will cover practical elements and novelties of the Enhanced EIC Pilot as well as details on upcoming calls.

The EIC Pathfinder Pilot comprises FET-Open and FET-Proactive and offers grants of up to €4 million to promote collaborative, inter-disciplinary research and innovation on science-inspired and radically new future technologies.

The EIC Accelerator Pilot builds on the SME Instrument Phase II and provides grant-only support as well as support in the form of blended finance (combining grant and equity).
You can follow a webcast of the event through this link.
Registration is not necessary for the webcast.
Agenda
WHY AN EIC? - POLICY SESSION
10:30 - 10:40: The policy rationale of the EIC
Director Jean-David Malo, European Commission

10:40 - 11:40: Panel discussion
Panelists:
Director Jukka Häyrynen, Ministry of Employment and
the Economy (panel moderator)
Director Jean-David Malo, European Commission
Jury Member, EIC Pilot, Nora Kaarela, Business Finland
Private Investor Inka Mero, Voima Ventures
EIC Beneficiary, CSO Pekka Laurila, ICEYE
11:40 - 12:00: Q&A
12:00 - 13:00 LUNCH
HOW TO RECEIVE FUNDING – INFO SESSION
13:00 - 13:30: The EIC in more details: Specific elements and novelties of the
revised Work Programme 2019-2020
Director Jean-David Malo, European Commission

13:30 - 14:00: The EIC in practice: Calls opening, cut-off dates, evaluation
Head of Unit Timo Hallantie, REA
Head of Sector Catherine Eginard, EASME
14:00 - 14:15: A practical case of the EIC (SME Instrument Phase 2)
Communication Manager Elina Voutilainen, CH-Bioforce Oy
14:15 - 14:30: A practical case of the EIC (FET Open)
Research Team Leader Mika Prunnila, VTT

14:30 - 15:00: Q&A