Finland's Santa Claus tradition acknowledged officially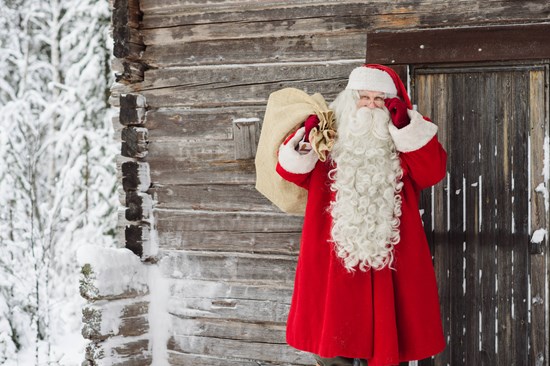 Finland's Ministry of Education and Culture has added the nation's Santa Claus tradition into the National Inventory of Living Heritage. Santa Claus is Finland's number one brand and a major draw for tourism in Finland.
The National Inventory of Living Heritage is maintained by the National Board of Antiquities and based on UNESCO's Convention for the Safeguarding of Intangible Cultural Heritage. Finland's Santa Claus tradition was added to the inventory following a joint appeal by the Santa Claus Foundation and Visit Finland.
Finland's Santa Claus is known throughout the country as well as abroad
The core of Finland's Santa Claus tradition is his home in Lapland's Korvatunturi, where he lives with his elves and reindeer, surrounded by white snow. Parents pass the story of Santa Claus on to their children, but the media also play a part in keeping the nation's Christmas traditions alive. Finland's Christmas traditions emphasise the importance of kindness and good cheer. A panel of experts deemed the tradition strong and credit Finnish families for making Santa Claus an integral part of their own Christmas traditions.
"Santa Claus and all the associated Christmas traditions are so dear and familiar to us that we often fail to see them as part of our cultural heritage. However, I think the traditions deserve even wider recognition for their beauty and value. Kindness, altruism and merriment are always in high demand", says Jari Ahjoharju, representative for the Santa Claus Foundation.
One and only Santa monumental for travel marketing in Finland
Visit Finland's Head of Marketing Heli Jimenez considers the inclusion of Finland's Santa Claus into the National Inventory of Living Heritage a notable step in the right direction and believes it will help solidify Finland's Santa as the world's one and only Santa Claus.
"Santa's role as an ambassador of goodwill garners enormous attention and child-like excitement around the world. He is a cornerstone of Finland's travel marketing, and we think all the positive ideas attached to Santa should also be associated with Finland", Jimenez explains.
Visit Finland, the Santa Claus Foundation and other relevant parties in Northern Finland have been working together for years. After all, Santa Claus is Finland's best-known brand – a fact that has been leveraged especially in Asia and specifically in China, but also in Russia, Europe and the United States. In Lapland, Santa has always been a huge draw for tourism. Companies such as Finnair, Finavia and TallinkSilja have also used Finland's Santa and Christmas traditions as part of their marketing efforts.
Santa and UNESCO's international inventory of cultural heritage
Next year, the Ministry of Education and Culture will decide which item of national heritage it will submit for UNESCO's international inventory of living heritage. Jari Ahjoharju from the Santa Claus Foundation hopes the man in red will be Finland's candidate. In addition to intangible heritage, UNESCO also catalogues sites deemed valuable for world heritage. Finland's World Heritage Sites include Suomenlinna, Old Rauma and the Kvarken Archipelago.

FURTHER DETAILS
Heli Jimenez, Senior Director of Marketing, Business Finland, heli.jimenez@businessfinland.com, +358 50 594 3832

Jari Ahjoharju, representative, Santa Claus Foundation, jari@santaclausfoundation.fi, +358 400 638 696
Visit Finland is a national authority on tourism and an active force in promoting international travel to Finland. Visit Finland supports the travel industry and helps businesses and groups develop products and services for the international market. Visit Finland is part of Business Finland. www.visitfinland.com

The Santa Claus Foundation is a Finnish organisation dedicated to the wellbeing of children around the world as well as promoting Finland as a Christmas destination and the true home of Santa Claus. By putting Finland on the map, Santa Claus advances travel in Finland. www.santaclausfinland.fi/en