All-time year for travel – record growth made Finland the most interesting destination in Northern Europe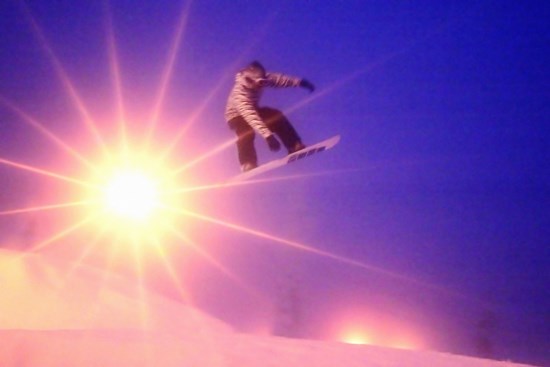 International travel to Finland broke all previous records last year. Nights spent by foreign tourists grew by more than 813,000 nights and came to 6.6 million. Nights spent by international visitors increased with all major markets and most grew by double digits.
Nights spent by foreign tourists increased by 14% in 2017. The previous record was from 2013, when Statistics Finland's accommodation statistics logged 5,860,000 stays. The previous record for absolute growth dates back more than a decade, from 2006.
"Unprecedented media interest in Finland's centennial and high rankings on lists of top destinations made us the centre of attention. We knew to anticipate strong growth, but the results are better than we could have hoped for. Tourism operators have been working together to break old barriers, bringing our travel industry to its full potential and converting international attention into growth and jobs", says Paavo Virkkunen from Business Finland's Visit Finland unit.
Finland's numbers are also exceptional among Scandinavian countries, as travel in Sweden grew by 4.2%, Norway followed at 2.3% and Denmark came in at 2.1%. Granted, our neighbours still outdo Finland in absolute numbers.
"Finland is a new destination. We still have plenty of potential for growth", Virkkunen states.
Europe still the foundation of growth
Europe is still Finland's number one market for tourism, and indeed poised for even more growth. More than half (52%) of nights spent by foreign tourists came from within the European Union. Asian tourists made up 16% of all nights spent by international visitors, up by 21% from the previous year. In fact, Asia now accounts for more nights than Scandinavia or Russia.
"Tourism in Finland has shown a healthy trend in the past years: we have managed to build sustainable growth on several markets while also advancing our risk management capabilities. The Finnish travel sector no longer relies on Russian tourists for growth", Virkkunen says.
The top five visiting nationalities remain unchanged from last year: Finland receives the most traffic from Russia (809,000), Germany (614,000), Sweden (593,000), the United Kingdom (580,000) and China (359,000, Hong Kong included). For 2017, Visit Finland worked together with the travel industry and focused on marketing and sales in Germany, the UK, Sweden, China and Japan. Germany edged past Sweden and became the second-largest source of visitors.
Less seasonal fluctuation and more year-round growth for all regions
The Finnish government granted special funding for the tourism sector last spring, which Visit Finland will be using to ensure last year's interest and growth will continue. Visit Finland will continue their work with the travel industry to further develop Finland's four main tourism regions, which all have year-round potential and recognition on the target markets.
The Helsinki region and Lapland are Finland's main attractions (growing 13% and 22%, respectively), but travellers are starting to discover other regions as well. Lakeland saw a 12% increase in nights spent by international visitors while the Archipelago region netted 8%.
The extra funding will also help operators explore new markets and attract funding from abroad. While some parts of the country struggle to provide accommodation during high season, others need international operators to help develop regional services.
"We want to make Finland the most attractive destination in all of Scandinavia. We will do so by focusing on year-round, regionally balanced growth. We will work to clear out bottlenecks in capacity for aviation, workforce and accommodation during high season, which should also help bring in more investments from international operators. Attracting visitors year-round is a key solution for many acute challenges in the sector", Virkkunen says.
Travel grows globally, trends favour Finland
Finland's record-breaking growth is part of a global trend in the travel sector, which has been aided by economic development in our most important target markets. According to World Tourism Organisation UNWTO, travel increased globally by 7% and by 8% in Europe. This trend shows no signs of slowing down: more people can afford to travel more often. International travel will continue its strong growth at 4 to 5 percent, which even tops average economic growth.
Additionally, many trends favour Finland's travel industry at the moment. Excessive tourism in some of Europe's top destinations has become a major issue and left many travellers in search of new, safe destinations. Also, as people move to big cities, Finland's unique draws – easily accessible wilderness, open spaces, peace and quiet – become more meaningful for travellers.
However, more visitors will inevitably strain delicate natural and cultural ecosystems. In order to maintain sustainable development, the industry needs to focus on producing experiences and services to customers who are willing to pay for quality. Fortunately, premium experiences are in high demand at the moment.
"Finland is still a relatively new destination for high-end tourism, but diverse programme services, professionalism, original top-level accommodation and personal hospitality are a recipe for success. Prospects for travel in Finland look very promising, and we have a unique opportunity to redefine luxury travel as we know it", Virkkunen states.
Nights spent by foreign tourists in 2017 based on nationality – TOP 10 (number of nights and change from previous year)
| | | |
| --- | --- | --- |
| | Stays, amount | Change, percent |
| Russia | 809,384 | 16 |
| Germany | 614,086 | 13.6 |
| Sweden | 593,010 | 8.0 |
| The United Kingdom | 580,306 | 15.9 |
| China and Hong Kong | 358,669 | 32.2 |
| France | 275,343 | 10.1 |
| USA | 266,722 | 15.1 |
| Japan | 236,647 | 10.3 |
| The Netherlands | 224,871 | 28.7 |
| Estonia | 199,970 | 3.4 |
Nights spent by foreign tourists in 2017 for Finland's four major regions (number of nights and change from previous year)
| | | | |
| --- | --- | --- | --- |
| | Stays, amount | Change, amount | Change, percent |
| All Finland | 6,584,235 | 812,960 | 14.1 |
| Helsinki region | 2,734,196 | 319,714 | 13.2 |
| Archipelago region | 1,208,671 | 92,536 | 8.3 |
| Lakeland | 1,018,351 | 106,368 | 11.7 |
| Lapland and Kuusamo | 1,623,017 | 294,342 | 22.2 |
FURTHER DETAILS
Paavo Virkkunen, Executive Vice President
Visit Finland | Business Finland
+358 40 7666 355
paavo.virkkunen (at) businessfinland.fi
Katarina Wakonen, Manager, Research
Visit Finland | Business Finland
+358 400 723 088
katarina.wakonen (at) businessfinland.fi
Salla Salovaara, Communications Specialist
Visit Finland | Business Finland
+358 40 526 0100
salla.salovaara (at) businessfinland.fi
Visit Finland is a national authority on tourism and an active force in promoting international travel to Finland. Visit Finland supports the travel industry and helps businesses and groups develop products and services for the international market. Visitors from abroad brought in €3.9 billion in revenue comparable to export in 2016. Visit Finland is part of Business Finland. www.visitfinland.fi
Business Finland is the Finnish innovation funding, trade, investment, and travel promotion organization. Business Finland is fully owned by the Finnish Government. Business Finland employs 600 experts in 40 offices globally and in 20 regional offices around Finland. Business Finland is part of the Team Finland network. www.businessfinland.com