Another record year for congresses in Finland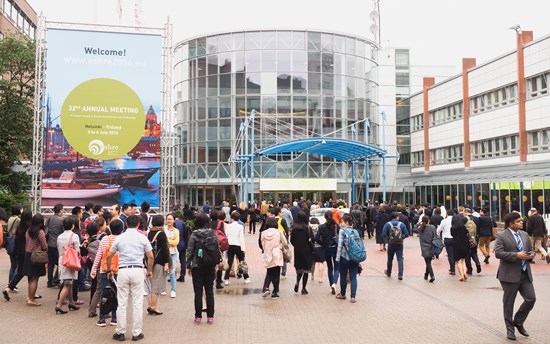 2017 saw more congresses organised in Finland than ever before. Last year totalled 791 congresses for international organisations with a record-breaking 111,188 guests, an increase of 22% from the previous year.
Most of the congresses were held in the Helsinki region. For 2017, the number of congresses in Helsinki increased by 28% and by 54% in Espoo. Tampere, Turku and Jyväskylä maintained their ranking among the top five cities to host congresses in terms of guests. Jyväskylä and Kuopio also showed a positive trend by hosting more congresses and guests than in previous years.
"This is the second year in a row that we've seen substantial growth for both the number of congresses and guests. The processes involved can be lengthy and international competition is fierce. Therefore these results are definitely a sign of long-term success with procurement", says Mervi Toivonen from Business Finland's Finland Convention Bureau.
Congresses provide jobs and revenue for travel sector
A total of 111,188 congress guests visited Finland last year. In 2016, the number was 101,514. The growing level of congress travel also has a considerable economic impact. The average congress visitor will typically spend up to five times more during their trip than a normal tourist. Additionally, many would consider coming back for a holiday after the event.
"A smooth congress experience requires expertise and effort from many different fields. The industry already employs a significant number of people and creates tax revenue."
Continued growth requires investment
Finland continues to stay among the top 20 countries to organise congresses, which can be attributed to our high level of expertise as well as our solid infrastructure. Finland has potential to become an even more attractive destination for congresses and business conventions, but domestic investment has been conservative so far. Our insufficient accommodation capacity has been a constant hurdle for organising larger events.
"We are thrilled with the news of several new hotel projects. An increase in bed capacity will surely have a positive effect on our future success with congresses as well", Toivonen states.
Congresses significant for Finland's financial image
There are events and congresses for every industry. For the scientific community, they are an important tool: congresses bring experts together and provide opportunities for networking. Congresses also often include workshops and visits, which allow access to hospitals and research facilities, for instance. Participants commonly hail from dozens of different countries and will take home experiences and impressions of Finland.
"Finland has yet to fully grasp how much congresses and business conventions fuel progress and innovation in science and economy. We do have top-level know-how in a number of different fields, and bringing that expertise to the world stage is best achieved when the events are held in our country", Toivonen adds.
The top 5 Finnish cities to host congresses in terms of guests in 2017
Helsinki 71,734
Tampere 9,972
Espoo 6,782
Turku 4,960
Jyväskylä 4 565
FURTHER DETAILS
Mervi Toivonen, Manager
Global Sales and Business Events
Visit Finland | Business Finland
+358 50 554 5050
mervi.toivonen (at) businessfinland.fi
Hetta Huittinen, Communications Manager
Business Finland
+358 400 339 597
hetta.huittinen (at) businessfinland.fi
Finland Convention Bureau (FCB) is a national marketing organisation for the convention industry, tasked to increase the number of international conventions, congresses, incentive trips and business events in Finland. Founded in 1974, FCB is one of Europe's first convention bureaus. FCB is a subset of Visit Finland, which is part of Business Finland.
Business Finland is the Finnish innovation funding, trade, investment, and travel promotion organization. Business Finland is fully owned by the Finnish Government. Business Finland employs 600 experts in 40 offices globally and in 20 regional offices around Finland. Business Finland is part of the Team Finland network. www.businessfinland.fi