Discover new circular economy based business - roadshow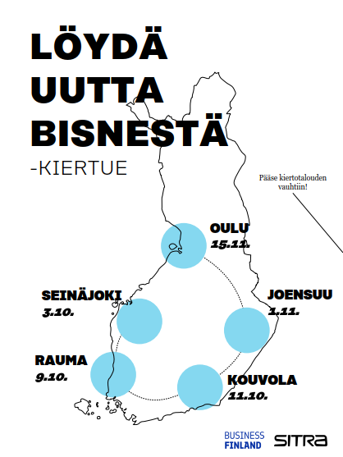 We will arrange together with Sitra a Roadshow covering five localities on October to November 2018.
What do we aim at?
Business Finland aims to encourage Finnish companies to be forerunners of the circular economy creating new long reaching sustainable business from their advanced solutions. The solutions offer also answer to crucial global challenges of sustainable development. The possibilities of circular economy must be seen and utilized in every field including both traditional manufacturing and information technology, logistics and services. Municipal actors play a central role in enabling new solutions of circular economy for instance with the help of procurement, city planning and municipal services.
Why join in?
Participants of the event will find out benefits and interfaces of circular economy to their own business. They can consider the role of their companies in establishing circular economy either developing or enabling it as well as hearing what are the first steps.
At the event we will tell you what kind of actions Business Finland is preparing concerning this theme and what kind of financing and services are available for the advancement of circular economy. The participants of the event have a chance to influence Business Finland's new services and the updating of the world's first national roadmap to circular economy.
Who will arrange?
Business Finland will arrange events in cooperation with Sitra and local partners. Local partners include business development companies Into Seinäjoki, Kouvola Innovation, Joensuun Tiedepuisto Oy and the city of Rauma. Partners of the event at Oulu are Business Oulu, Oulu University of Applied Sciences, Council of Oulu Region, the Federation of Entrepreneurs in North Ostrobothnia and TAT Young Business Generations.
How can I participate?
Whether you are an entrepreneur, a representative of business, a municipal officer or civil servant, this event is for you all. Check out the nearest event from the list below and come to get inspired from circular economy. You will have a chance to develop suitable business models with the help of experts for your own company or companies in your area.
Roadshow locations and partners:
Seinäjoki 3.10.
More information Sanna Kankaanpää, Into-Seinäjoki, sanna.kankaanpaa (at) intoseinajoki.fi
Registration >>
Rauma 9.10.
More information: Heikki Nurmi, Rauman kaupunki, heikki.nurmi (at) rauma.fi
Registration >>
Kouvola 11.10.
More information: Kari Laine, Kouvola Innovation, kari.laine (at) kinno.fi
Registration >>
Joensuu 1.11.
More information: Terttu Kinnunen, Joensuun Tiedepuisto Oy, terttu.kinnunen (at) tiedepuisto.fi
Oulu 15.11.
More information Sanna Moilanen, Oulun AMK, sanna.moilanen (at) oamk.fi sekä
Tiina Haapaniemi, Business Oulu, tiina.haapaniemi (at) businessoulu.com
Registration>>
More information
More information about the Roadshow and Business Finland services related to circular economy:
Aila Maijanen
Senior Advisor
Business Finland
aila.maijanen(at)businessfinland.fi