Finnish 5G test networks serving the vertical industries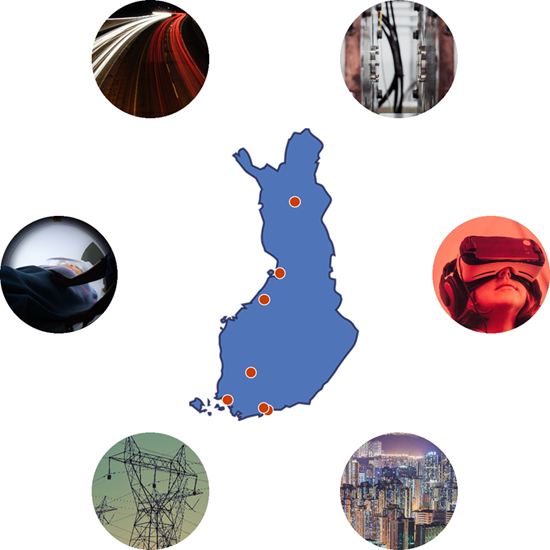 The completion of phase 1 radio standardization has made it more clear what 5G will be able to offer. This makes it easier also for the vertical industry players to place 5G on their business development and digitalisation roadmaps. 5G Test Network Finland (5GTNF) has been helping companies to experiment with the possibilities of 5G.
For the past year, the 5GTNF ecosystem has focused on practical large-scale service trials based on vertical industry driven use cases. The main driver behind the activities has been into taking the implemented technologies and service demonstrations out from the laboratory and expose them to their real operational environments. The ongoing trials provide invaluable information to both to the 5G technology providers and vertical industry players about the new requirements and possibilities stemming from the tighter integration of mobile networks and digital services.
"5G is a key ingredient of the 4th industrial revolution and it is crucial to cooperate across industries in testing and development of new use cases, like in 5GTNF project," says Lauri Oksanen, VP Research and Technology of Nokia Bell Labs.
With the lead of the vertical industry partners in Business Finland's 5thGear test network projects 5GTN+, CORNET, TAKE-5 and WIVE, the trials on top of the joint 5GTNF platform have progressed in several use cases. For enhanced mobile broadband use, the focus has been on 5G-enabled media content production and delivery. In addition, 5G connectivity for different healthcare services, public safety scenarios, industry automation, automated transport and smart grids has been tested. Through collaboration with other projects and external partners, the scope of the trials in 5GTNF has extended also to the smart cities and automated driving.
Towards smarter city infrastructure
One key collaboration example to boost implementation of 5G networks and new digital services is the LuxTurrim5G. This multi-partner R&D project driven by Nokia Bell Labs and coordinated by Spinverse will bring fast 5G networks to cities via an infrastructure of smart 5G light poles with integrated antennas, base stations, a variety of sensors, screens and other devices. First versions of the smart poles are already in test use at Nokia Campus (Espoo, Finland) and ten new poles will be mounted still this year. The first pilot services include video surveillance, weather and air quality monitoring, navigation, infotainment and smart lighting.
"By collaborating on 5G network development we hope to enable denser environmental observations for more efficient operations in smart cities e.g. dynamic traffic routing based on fine-granular air quality information," says Erik Sucksdorff, Head of Strategy and Business Development for Vaisala Oyj's Weather and Environment Business Area."
"High-capacity connectivity through 5G is a key factor for new digital applications and services in, for example, video surveillance and information delivery. Collaborating on the 5G development offers us a unique possibility to implement our technologies to the vertical industry needs and drive realization of 5G's potential," says Ilkka Ritakallio, Director New Applications for Teleste Oyj.
Enhancing road safety with better connectivity and new services
Another example is the Challenge Finland 5G-SAFE project that started in 2017. Coordinated by VTT and participated by key Finnish academic and industrial partners, the project conducts R&D on novel road safety services enabled by 5G. One of the main purposes of the project is to gather new types of mobile data from vehicles in a timely and scalable manner in order to improve the situation awareness of the surroundings on the road. The collected information will be used to notify other road users of the conditions ahead and for scheduling road maintenance operations to make it more cost efficient and bring more safety on the roads. With the low latencies gained with 5G technology, 5G-SAFE aims to provide new kinds of services needed for autonomous vehicles as well.
"We are gathering new kinds of information concerning the recent road maintenance and real time observations from our pilot road stretch Kemi-Sodankylä in Finnish Lapland. With this information we aim to deliver more precise forecasts for the road maintenance operator", states Janne Miettinen, Account Manager and project leader at FMI Services. "Another key service we aim to provide is the snapshot of the forthcoming weather and road conditions to inform the vehicle or its driver. For both of the services, FMI's Road Weather Model plays the leading role among 5G technology".
Call for collaboration
5GNTF ecosystem provides excellent cooperation possibilities with Finnish ICT industry as well as academia, and welcomes new partners to join the discussion around 5G. The online tools provide an easy way to contact and communicate with the operators of the local 5GTNF test sites. These web portals also offer and up-to-date overview of the available services and testing possibilities at the sites.
The local community in the Espoo/Helsinki area can be reached here
In Oulu area, the local community can be reached here
Further information
5thGear program
Mika Klemettinen, Business Finland, tel. +358 50 5577 647, mika.klemettinen (at) businessfinland.fi
5GTNF
Jarno Pinola, VTT, tel. +358 40 356 9859, jarno.pinola (at) vtt.fi
Kyösti Rautiola, VTT, tel. +358 400 582 246, kyosti.rautiola (at) vtt.fi
Available 5GTNF services
5thGear projects
5GTN+
Atso Hekkala, VTT, tel. +358 40 751 5708, atso.hekkala (at) vtt.fi
CORNET
Tuomo Hänninen, University of Oulu, tel. +358 50 575 8340, tuomo.hanninen (at) oulu.fi
TAKE-5
Jose Costa-Requena, Aalto University, tel. +358 50 577 0142, jose.costa (at) aalto.fi
WIVE
Jarkko Paavola, Turku University of Applied Sciences, tel. +358 40 355 0335, jarkko.paavola (at) turkuamk.fi
LuxTurrim5G
Juha Salmelin, Nokia, tel. +358 50 522 3508, juha.salmelin (at) nokia.com
Markku Heino, Spinverse, tel. +358 40 719 1221, markku.heino (at) spinverse.com
5G-SAFE
Tiia Ojanperä, VTT, tel. +358 40 758 3526, tiia.ojanpera (at) vtt.fi