Green, Cool and Intelligent Buildings from Finland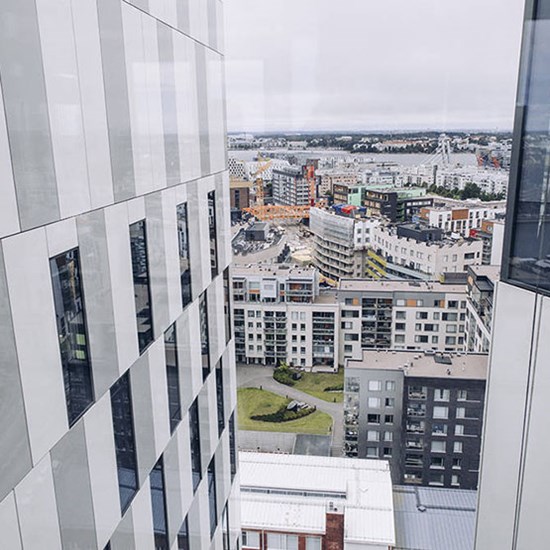 Finnish companies showcasing their knowhow to Polish construction market
The Polish construction market is going through a major transformation towards high-performance buildings. What once was mainly a trend in commercial buildings has become reality also in residential construction. Finnish companies have woken up to the opportunities offered by this EUR 43 billion market.
Finland's advanced infrastructure, combined with a harsh climate and lack of fossil flues, has helped our companies to create a wide variety of next generation building materials and technologies," says Petri Lintumäki, Manager for Smart Buildings Program. "Among others, they connect seamlessly ventilation and heating with smart solutions that support the real-time measurement, automation and demand-side management." Lintumäki continues.
Five Finnish companies are visiting Poland in October to showcase their solutions and to participate in 8th PLGBC Green Building Symposium organized Warsaw.
Finnfoam
Finnfoam offers a diverse and reliable thermal insulation, which maintains its characteristics even in demanding conditions. It is durable and waterproof material. Finnfoam's range of products includes excellent solutions for business premises, residential buildings and single-family houses as well as reconstruction and infrastructure applications. At London Build Expo company's product FF Signal has been selected the finalist in Technological Innovation category.
Contact: Heikki Savikko, heikki.savikko(a)finnfoam.fi
Fortum Smart Living
Company's mission is to help improve people's lives by making their homes smarter. Fortum SmartLiving makes home more comfortable, safer and helps to save money and to live in more sustainable way. This all-in-one solution is designed to take care of families and communities.
Contact: Tomasz Śmilgiewicz, tomasz.smilgiewicz(a)fortum.com
Itula
Itula's ItuGraf second generation Radiant Heating and Cooling Panel is the green technology solution that saves energy, provides excellent indoor air climate control and architectural flexibility. ItuGraf can be used in all kind of buildings.
Contact: Hannu Janhunen, hannu.janhunen(a)itula.fi, Michał Pilch, increase.cieszyn(a)gmail.com
Lumon
Lumon International offers value-added balconies for developers' end-customers. The balconies, glass terraces and shades are modern, and they both reduce noise as well as save energy.
Contact: Mariusz Mieszkowsk, mariusz.mieszkowski(a)lumon.com
Marioff
Marioff's HI-FOG® is a proven fire protection solution which efficiently and effectively protects office buildings while posing no risk to personnel. The system's compactness and flexibility also make it exceptionally well suited to office buildings. HI-FOG® is a high-pressure water mist sprinkler system which uses significantly less water than traditional systems and generates exceptionally good fire protection performance. With very little clean-up, people are inconvenienced as little as possible and business downtime is kept to a minimum.
Contact: Sofia Taracha, Sofia.taracha(a)marioff.fi, Andrzej Lesiak, a.lesiak(a)instac.pl
More information
Petri Lintumäki
Program Manager
Business Finland
petri.lintumaki (at) businessfinland.fi
tel. +358 (0)40 343 3299
Zofia Stelmaszczyk
Senior Advisor
Business Finland
zofia.stelmaszczyk (at) businessfinland.fi
tel. +48 601 98 52 02