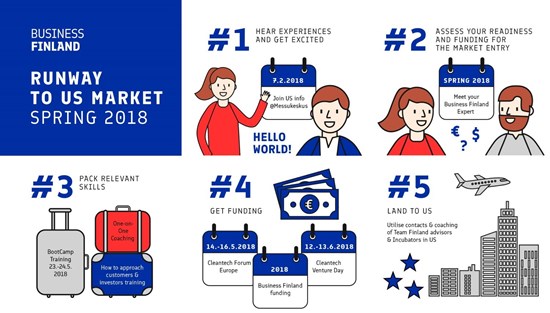 US market offers great opportunities to Finnish companies both in cleantech and in circular economy business. California's economy is the fifth largest in the world and great investments in cleantech are right now topical. There is a huge demand for new innovations.
During the Spring 2018 Business Finland's "Runway to US Market" offers companies tailored services and sparring to improve their readiness for the US market. Business Finland's experts in Finland are coaching companies to get ready, while our experts in international business located at the target market open up doors there. They are well connected to potential customers, partners, investors as well as local enterprise accelerators. The sparring includes e.g.:
2-Day Bootcamp Training in Finland in 28th and 29th May 2018
Two mentoring sessions before and after Bootcamp
We are looking for companies currently heading for the US market and willing to develop their operation.

Heading for the US Market? Interested in developing your readiness and skills?
Make an appointment with your Business Finland Account Manager and/or Outi Suomi (the Cleanweb programme manager) by e-mail or phone as soon as possible.
Company evaluation through discussions with BF experts is carried out during February and March. We will select 12 companies to be admitted to the Spring's sparring.
Final application date is March 23rd. Notification of selection will be made by April 6th.
More information
Outi Suomi
Cleanweb Programme Manager
outi.suomi(at)businessfinland.fi
+358 (0)50 557 7699