Business delegation to Jordan with regional resilience focus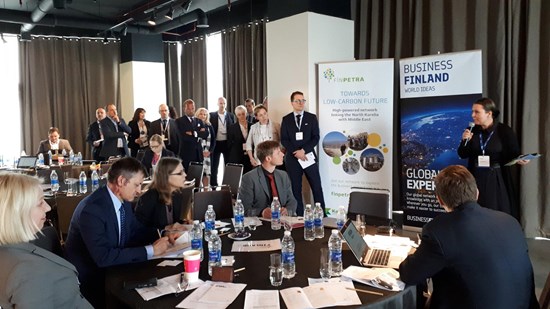 Ministry of Foreign Affairs and Karelia University of Applied Sciences together with Business Finland arranged a business delegation to Jordan on 25-28 March with regional resilience focus.
Together with Ministry of Foreign Affairs and Karelia University of Applied Sciences, Business Finland arranged a business delegation visit to Jordan with regional resilience focus. Also UNTIL Finland wishing to pilot new solutions in developing countries in sectors of circular economy, health, education, and peace & security, participated the delegation. Altogether 24 companies and organizations and 41 persons participated this business delegation in March 25 to 28, 2019, led by Ms. Elina Kalkku, Under-Secretary of State, Development Policy, Ministry of Foreign Affairs. There was a notably big share of women and young people in the delegation.
Numerous B2B meetings, a business seminar with the local business community and a reception were arranged in Amman, leading to multiple business contacts and business leads. For example, Honorary Consul General Mr. Rakan Rusheidat proved to be a great friend of Finland and is able to boost Finnish businesses in Jordan and neighboring countries., and Mr. Laith ALRahahleh with his extensive contact network in Jordan proved to be indispensable resource in organizing business meetings. Many meeting created other interesting meetings with local companies, universities, and ministries.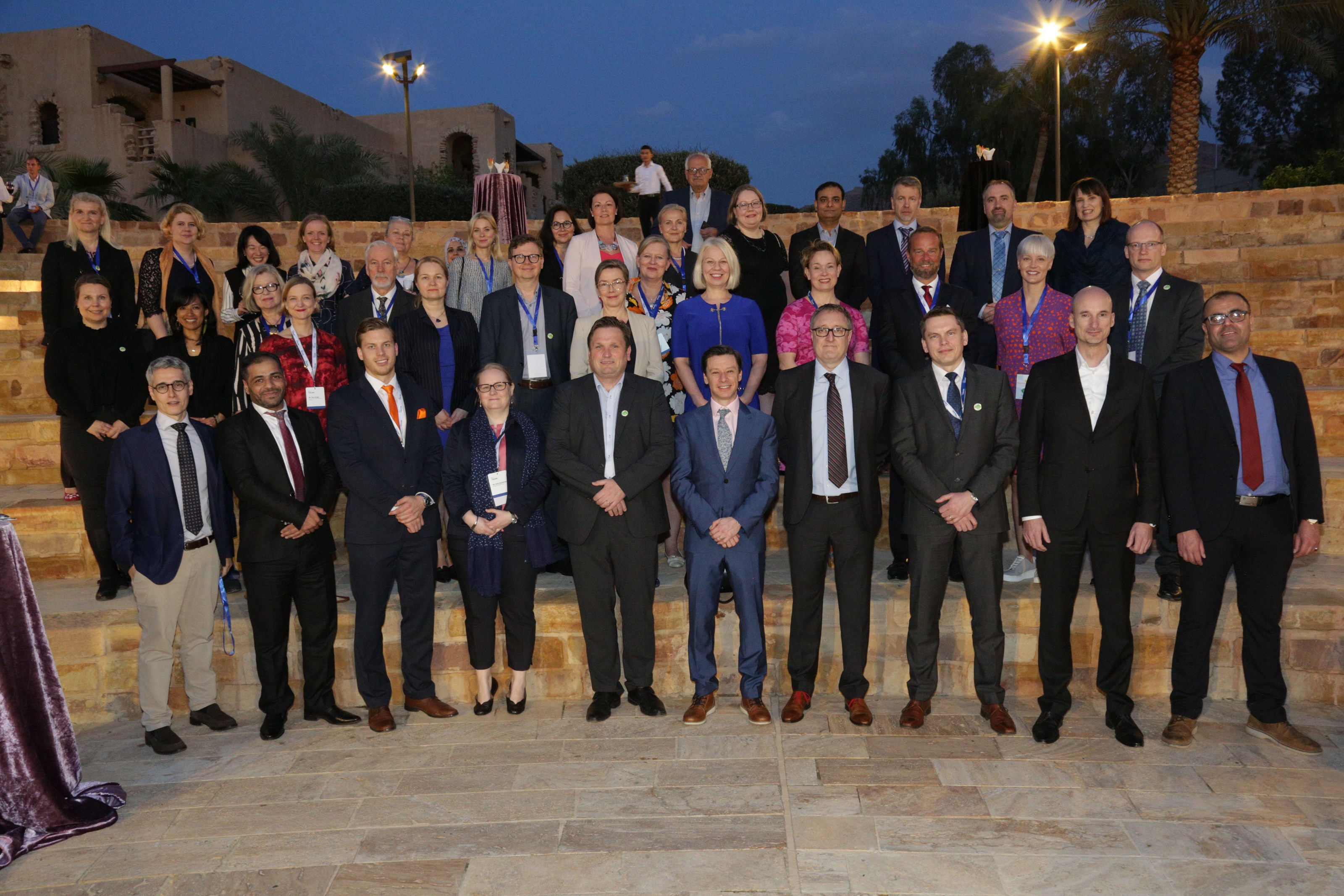 Jordan – the land of possibilities for Finnish companies
Jordan seems to hold much more business potential than one could assume. Due to the Syria refugee crisis, development banks and EU are investing much more in Jordan than its country classification would justify. Finnish companies are welcomed to Jordan and many additional and even high-level meeting take place unexpectedly and promptly. Jordan is also the regional hub for Syria crisis response and recovery and hosts biggest number of UN agencies and NGOs in the region. Jordan will also play a central role is reconstruction of Iraq and later Syria.
Jordan is also the leading user of renewable energy in the region. 20% of the energy is generated through renewable energy sources, mainly solar and wind. Jordan is said to be the most optimal place on earth for solar power. Based on our discussions, there seems to be also high interest to W2E solutions. Now there is excess of power generation capacity as the crisis in Syria and Iraq has decreased exports of power to neighboring countries and domestic electricity consumption in Jordan has decreased to some extent due to decreased exports of goods to neighboring countries (Syria and Iraq).
Jordan also has the poorest water resources in the region. Water needs to be desalinated in the future. And Dead Sea is drying out by 2050 if nothing is done. The forest resource are also very limited: 0.9% — or about 83,000 hectares — of Jordan is forested.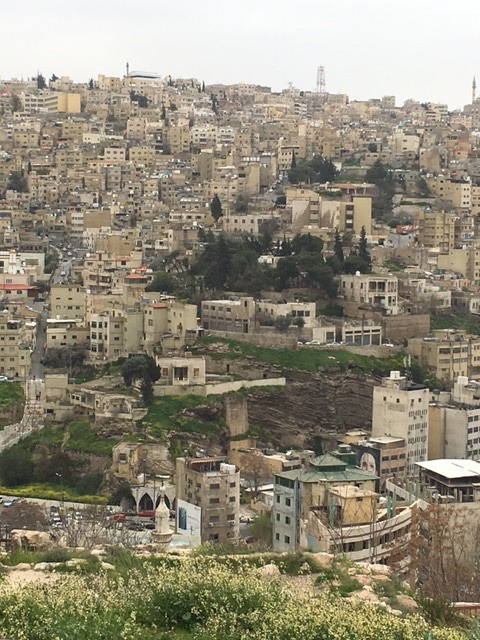 ICT sector is the fastest growing sector in Jordan and high quality coding resources are available. Some Finnish companies have recruited talent from Jordan. Jordan is also strong in gaming industry and content creation for social media channels in Arabic language. Salary differentiation to neighboring countries can be advantage e.g. in establishing in call centers and other customer service centers in Jordan.
Education is a big challenge in Jordan. Primary schools operate in double shifts: Jordanian pupils in the morning, refugees in the evening. There is also huge need for vocational training. The challenge has emerged e.g. in cases when new systems need long-term operational capabilities and maintenance. The government has decided to transfer the vocational training to private sector. Finland is well-positioned in this as it has the best competence in vocational training i.e. on-the-job learning. Universities are considered to be ok.
European Union and the development banks are present in Jordan
EU has tripled the investments to Jordan since in Jordan 2011; 2 billion € has been invested. The main sectors to invest are for economic development; capacity to available jobs for maintaining the social ease; and future private sector development for linking needs to private sector. EU has ongoing projects or projects under planning e.g. to manage Jordan scarce water resources in areas of large concentration of Iraqi refugees and to connect households to water system; to install solar panels for schools for heating; to support education system; and to improve refugees' living conditions in the camps.
European Bank for Reconstruction and Development (EBRD) has private sector focus; 70% of its financing goes to private sector. It focuses in public infrastructure, concessional loans to projects, the main sectors being energy and water/sanitation. Minimum investment is 1 million €. Eligible applicants (companies) should be minimum 2 years old.
European Investment Bank (EIB) also has an office in Jordan. EIB is building up presence now in Jordan. Energy and transport sectors are the biggest for EIB in Jordan. EIB is also thinking how to contribute in refugee crisis. If Finnish companies want to invest in Jordan, they can use EIB. It can finance 50% of the project cost, not all. However, EIB is too big to provide loans to small companies but it provides loans to banks who, in turn, can provide smaller loans to companies, e.g. microfinance to women. The minimum size of an investment is 5 million €. EIB does not have fixed criteria for applying companies. The company needs to be able to pay the loans back and the projects needs to be feasible.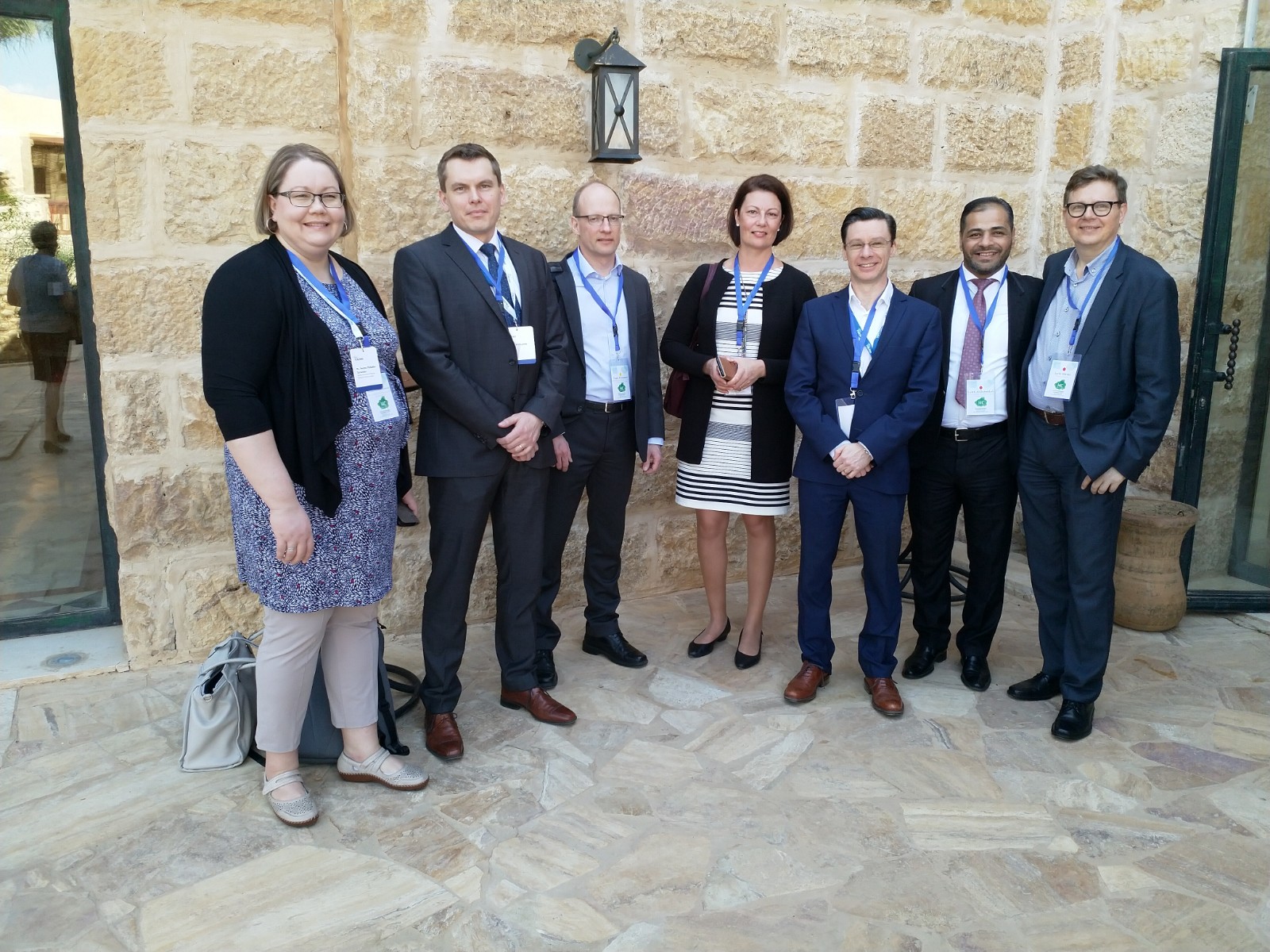 The World Bank (WB) in Jordan is working to create more and better opportunities for all. The World Bank Program in Jordan promotes an ambitious agenda for jobs and access to basic services such as education and health while helping Jordan address the impact of the Syrian crisis. WB is currently working with the ministry of education and ministry of ICT to design a vocational training program. The aim is to find private sector service providers, i.e. vocational training centres, too.
UNDP hosted 2-day Innovation for Crisis workshop for the Finnish participants. UNDP had invited UN agencies and NGO representatives working for the Syria refugee crisis in Turkey, Iraq, Jordan, Lebanon and Egypt for innovating for collaborative solutions. Based on the unsolved challenges that UN agencies had identified, the idea was to create and find novel solutions together with Finnish companies and universities. Much of the ideas from Finnish participants were adopted to the created solution concepts, new contact were created and much new information was gathered what is possible and what is not. For example, the governments of Jordan and Lebanon wish not to erect permanent water purification systems next to refugee sites as they wish to not to promote permanent stay of refugees in the host countries but wish to encourage the returning to home countries when possible.
Business Finland wishes to continue cooperation with Jordan in the future.
More information
Jyrki Härkki
Head of Developing Markets
Business Finland
jyrki.harkki (at) businessfinland.fi