Finland's travel exports increased by one billion euros in a year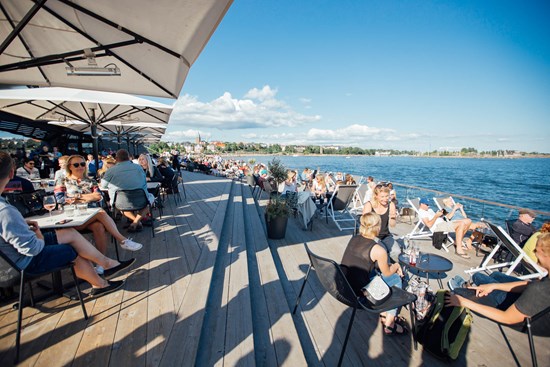 Travel is a service industry of EUR 15 billion in Finland, and it accounts for 2.6% of Finland's GDP. Its significant increase is attributable to travel exports which, according to recent travel statistics assigned by Visit Finland from Statistics Finland, increased to EUR 4.6 billion in 2017.
In recent years, the travel industry has been one of the most successful and dynamic sectors in Finland. In 2018, overnight stays by foreign visitors reached a new record at 6.8 million.
Cooperation in the industry and investments in travel exports have materialised in the form of exceptionally large euro-denominated growth. According to the most recent travel statistics, demand for travel services by foreign visitors, i.e. travel exports, increased by 27%, or EUR 1 billion, to EUR 4.6 billion in 2017. The value added from travel increased by 8% to EUR 5 billion. For the first time, the proportion of travel of the GDP increased to 2.6%.
"The travel industry is of the same size as agriculture, forestry and the fishing industry combined, and half larger than the food industry," says Paavo Virkkunen, head of Visit Finland, a unit of Business Finland.
Last year, the travel industry employed more than 140,000 people, covering 5.5% of the entire workforce. External employees and the trade sector are not included in employee statistics. For example, external employees account for roughly 6,000 person-years in the hotel and restaurant sector.
The travel industry is preparing for growth by making investments
Finland is a relatively fresh travel destination, with potential for growth to spare. According to preliminary data, Finland accounted for 14% of all overnight stays by foreign visitors in the Nordic countries in 2018. This is much less than could be potentially accomplished. The strategic goal of the travel industry is to become the most attractive destination in the Nordic countries and to sustainably increase the processing value of travel.
Finland's success in global travel markets has increased domestic and international investments. A significant number of new hotels are being planned in Finland. Finavia, our national airport operator, is investing in airport expansions. It is getting ready to serve 30 million passengers by 2030. These investments are based on significant expectations set for growth. According to the World Tourism Organization (UNWTO), international travel increased by 6% last year, and the future is looking promising.
The travel-based country image supports other export industries
Travel is one of the most fiercely competed industries in the world, and digitalisation has revolutionised consumer behaviour. Visit Finland is about to work in closer cooperation with other Nordic countries in terms of distant countries, such as China, India and the US, where Europe first needs to compete with other continents. Travellers who come to Finland typically visit other Nordic countries, as well. In addition, they usually visit various locations inside Finland.
Finland's country image, strengthened by travel, also supports other commercial goals of Finland's exports. The better Finland is known, the easier it is to sell everything else.
"In 2019, the key tasks of Visit Finland are to maintain the current achieved level and to seek new growth from new emerging markets in the ever-changing world. In order to do this, we also need to build and market a round-the-year travel range, make the travel business more digital and invest in sustainable and responsible travel," Virkkunen says.
The travel statistics only cover the direct financial impact of travel, i.e. the consumption of products and services by visitors. The World Travel and Tourism Council (WTTC) has developed a method to define the total impacts of travel, also including any indirect impacts. According to the WTTC, travel accounted for roughly EUR 18.8 billion (8.3%) of Finland's GDP in 2017. By 2028, the direct impact of travel on GDP is expected to increase to EUR 24.3 billion, comprising 9.3% of GDP.
Factsheet:
Key figures of travel statistics, preliminary data from 2017
The data is based on Finland's travel statistics from Statistics Finland. The travel industry consists, for example, of accommodation, hospitality, transport, culture, sports and recreation.
• Total demand for travel: EUR 15 billion
• Travel exports: EUR 4.6 billion
• Value added from travel: EUR 5 billion
• Proportion of travel from GDP: 2.6%
• Number of employees: 140,200 people (external employees and the trade sector not included)
Further information for media:
Paavo Virkkunen, Executive Director, Travel & Head of Visit Finland | Business Finland
paavo.virkkunen @ businessfinland.fi, +358 40 766 6355
Katarina Wakonen, Manager, Research, Global Insight. Visit Finland | Business Finland
katarina.wakonen@businessfinland.fi, +358 40 072 3088
Heli Hemgård, Communications Manager. Visit Finland | Business Finland
heli.hemgard @ businessfinland.fi, +358 40 901 5219
As a national and active travel specialist, Visit Finland is responsible for promoting travel to Finland from abroad. Visit Finland supports companies and groups operating in the travel industry in developing and marketing travel services intended for international markets. Visit Finland is part of Business Finland www.visitfinland.fi / www.visitfinland.com
Business Finland is a public organisation that offers innovation funding as well as internationalisation, investment and travel promotion services. Business Finland employs 600 specialists in 40 locations round the world and in 20 regional offices in Finland. Business Finland is part of the Team Finland network. www.businessfinland.fi