Finnish food and alcohol products available now also in Globus store Rostock-Roggentin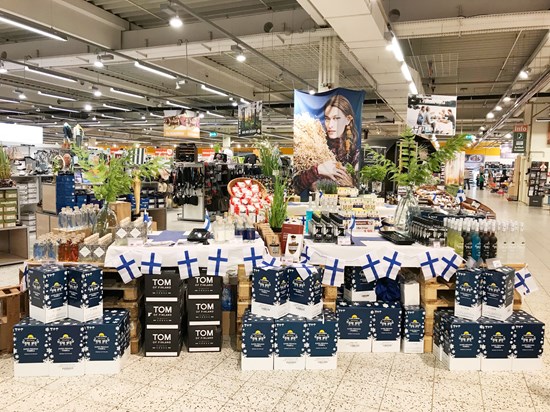 Finnish food and alcohol products are gaining more and more visibility in Germany. After the persistent work of Food from Finland program in Germany Finnish products can already be found in CITTI, Edeka Nord and KaDeWe stores as well as Lieferello online shop. The latest cooperation was launched with Globus retail chain, which now also has Finnish food and alcohol products on their shelves in Rostock.
- Globus headquarters in St. Wendel chose Globus store Rostock-Roggentin as a test market for the Finnish assortment. If Globus' customers get fond of Finnish products, Finnish assortment will be widened also to other Globus stores. Globus chain has all together 47 department stores in Germany, says Elina Iso-Oja, Advisor at Business Finland Munich office.
Globus showed interest towards the pure and tasty Finnish products already in spring 2018. However, due to the strict quality criteria of Globus chain many Finnish producers needed to make changes to their German labelling. After almost one year, the Finnish assortment could finally be launched at Globus.
Good visibility for the Globus Finnish week campaign in Rostock
Finnish week campaign at Globus Rostock-Roggentin took place on 24th – 29th June 2019. Globus selected 35 products from 14 Finnish companies for the Finnish week campaign and for the 6-months-test-selling. Among the products there are alcohol products, berry and grain based products as well as chocolate and liquorice from Finland.
The Ambassador of Finland to Germany, Anne Sipiläinen, opened the Finnish week officially together with the Globus Rostock-Roggentin store manager. Enclosed a press conference was organized and several local newspapers wrote articles about the Finnish week at Globus. Radio spots were also played the whole week in the local radio stations. Campaign marketing was done as well on Globus Facebook and web page. More than 80 000 campaign flyers were printed out and sent to Globus' customers.
During the Finnish week campaign Food from Finland organized 6 days joint tastings for the Finnish products. Promoters were recruited from Finland according to Globus wishes. "It was very important for us that the products were served authentically by persons who are living in Finland", explains Katrin Belzer, division manager food at Globus Rostock-Roggentin.

Finnish week campaign at Globus was also supported by Visit Finland, which raffled off a culinary trip to Helsinki for two lucky Globus customers.
Globus now sells the Finnish products on their shelves approximately 6 months after which they decide which products they will permanently list to their assortment and whether other Globus stores will have a Finnish assortment as well.

-It depends now on our customers, how we will proceed with the Finnish products", sums up the Globus store manager Frank Meißler.
For more information, please contact:
Elina Iso-Oja, Advisor, Business Finland Germany
elina.iso-oja (at) businessfinland.fi
Tel. +49 160 9484 7253
Lili Lehtovuori, Business Finland global opportunity leader – food and beverages
lili.lehtovuori (at) businessfinland.fi
Tel. +43 664 2545 289