Authentic Educational Travel Experiences from Finland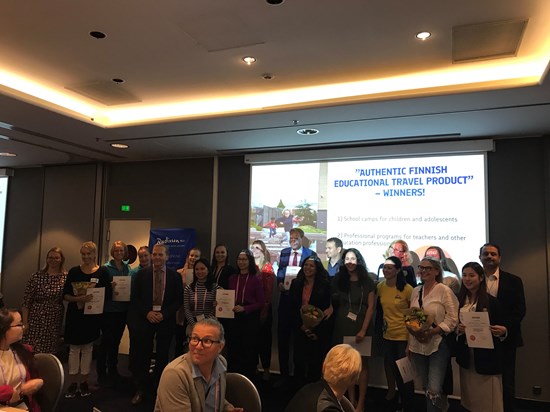 Visit Finland organized an "Authentic Finnish Educational Travel Product" contest during the summer months and the top products have now been selected among 26 participants. The selection was made by a jury consisting of experts from Visit Finland and Finnish National Agency for Education. The products were evaluated based on their attractiveness, authenticity, uniqueness, adaptability and educational content. Extra points were given for sustainability, visibility in digital channels and extending the travel season.
School camps for children and adolescents
In the first category, "school camps for children and adolescents" the first prize went to Code School Finland as their product is a good example of teaching "future skills" in a fun way. "Code is a global language. Code School Finland's mission is to help every child in the world to learn essential skills for the future. Our coding and robotics education focuses on creativity, innovation and learning-to-learn skills. The nomination in the Top Educational Product Competition opens up the possibility for more and more children to benefit from learning these 21st century skills the Finnish way." Kaisu Pallaskallio, Code School Finland.
The second prize went to Adventure Apes for a product that is easily adaptable to different markets and brings sustainability in the forefront. "We are honoured for our Tailor-Made Adventure Camps to win this Visit Finland award and are looking forward to continuing to build new educational camp programs that focus on connecting adventurers to nature and the local culture." comments Heidi Savolainen from Adventure Apes.
The third winner was FINEA with emphasis on educational content and a product suited for individual students. "We are extremely proud to have our product, FINEA camp, as the top school camp for children and adolescents in Visit Finland's competition for Authentic Finnish Educational Travel Product. We look forward to hosting international travelers at FINEA camp, where they get to experience pure Finnish nature as well as learn English in an authentic, high-class Finnish classroom setting with the help of our trained and experienced teachers." Henriikka Tiainen, FINEA.
The fourth and fifth place went to FinnOppi and Iloranta. "True learning is based on personal experiences. Knowledge is important, but it is even more important to experience things and understand them through feelings. In our camp schools, we want to offer authentic experiences from Finnish countryside on the shores of the lake Iso-Roine. Visits to the university and several local schools shed light on the Finnish educational system and support learning through active opportunities for discussions and getting to meet with the Finnish students." Virpi Juutinen from Iloranta describes their camp school product.
Professional programs for teachers
In the category of professional programs, the first prize went to Learning Scoop. The quality of this product lies in experienced experts of Finnish education. The educational tours are not concentrated on one Finnish region only – but operate in almost all regions. "Team Learning Scoop is extremely happy for this nomination as it has been our joy to connect, share and learn from participants from over 50 different countries. We have got excellent feedback of our profound and high quality training services spiced up with unique cultural and nature experiences." comments Ellimaija Ahonen from Learning Scoop.
The second and third prize went to Fun Academy and VisitEDUfinn. "We feel extremely honored for this recognition. I think it shows – together with the success and feedback received from the participants – that innovative combinations have added value to the customer. In our case, it was putting together traditional conference settings with school visits, winter activities and now also a school camp." Riku Korosuo, VisitEDUFinn.
The other nominated educational travel suppliers include Council for Creative Education - CCE FInland and Arkki International. "Arkki professional programs allows participants to experience Arkki awarded and unique approach on creative education developed in Finland since 1993 and exported to 7 countries. Arkki is a pioneer on phenomenon based education, is rooted in the National Core curriculum and represents the Finnish main values - education, equality, participation, sustainability, creativity and innovation. Our programs are aimed to show why creativity is the new literacy." Elena Pinero, Arkki.
All awarded educational travel products
Professional programs for teachers and others interested in education
TOP 3

Study Tour, Learning Scoop (TOP 3)

Future Astronaut Program Training in Finland, Fun Academy Oy (TOP 3)

LIFE (Lapland International Forum for Education™), VisitEDUfinn (TOP 3)


Finland Education Experience – Pedagogical Leadership Theme, Council for Creative Education - CCE Finland Oy
Arkki International visitors programs, Arkki International
School camps for children and adolescents

4 day Robotics Escape Room Camp with Finnish co-students, Code School Finland / Suomen Koodikoulu (TOP 3)
Tailor-made adventure camp, Adventure Apes (TOP 3)
FINEA Camp, Finnish Education Agency FINEA (TOP 3)


Hands-On learning and Nature in Finland, FinnOppi Oy
Diving into Finnish nature, culture, history and educational system, Iloranta Oy
Read more about Educational Travel here (in Finnish)