Young professionals at Business Finland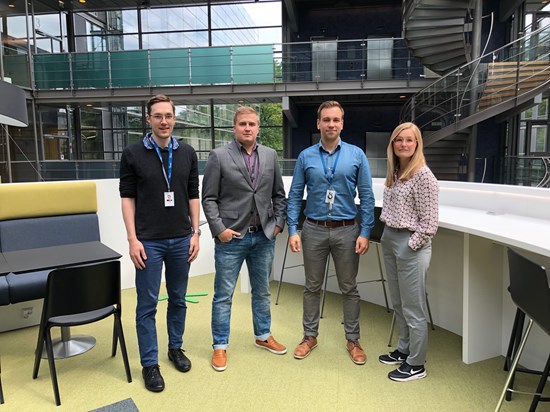 Global opportunities and support from colleagues – here's what four of our trainees had to say about their work so far.
11 new trainees joined Business Finland in the end of spring. They work in all of our service areas as well as in Talent & Administration and the Director General's Office. We asked four of them for an interview to find out what their thoughts about their time with Business Finland have been like so far. For young professionals, having the full trust of the surrounding working community as well as a variety of interesting tasks are an important asset in making work feel meaningful. For Anna Lilja, Waltteri Heino, Henri Nyberg and Tuukka Tenhunen Business Finland has definitely offered both.
"From the start we've been seen as equal professionals, and we've been given interesting work to do. The community here is one of the best aspects of our work. If you ever have any questions, you can be sure that someone takes the time to help answer them. Everyone is extremely professional, and there is a large variety of expertise in different fields in the staff", says Henri Nyberg, who works in Business Ecosystems Digital trust program.
All of the four are extremely interested in the international aspects which Business Finland offers for the businesses it serves. Even though they all have different backgrounds, they all share a common feeling of wanting to work abroad at one part or another of their careers.
"I've lived abroad for a few years before and haven't ruled out the idea of working abroad in the future as well. At the same time, I find that what Finland is currently doing regarding digitalization makes this a great time to work here, as we combine both the Finnish, forward-thinking expertise and the aim to be truly global", Waltteri says. He is currently working in Digital backend & Global Insight, BF Lab, where he especially enjoys the opportunity to combine his two professional interests – public administration and digitalization – through the variety of tasks he has there.
"It's also great that we have the trust from the organization to build on our own ideas and kickstart our own projects", Waltteri adds.
All of the four have found work, which reflects their interests and earlier studies and experiences. For three of them, Anna, Henri and Tuukka this is also the second time they've worked at Business Finland. What made them eager come back?
"It has to do with the possibilities that the organization has to offer. It's truly rewarding to work with the client companies that we have. I've made so many new contacts and had so many interesting projects during my time here that it felt really natural to apply for a second time", says Henri, who first worked in Business Finland's Vietnam office in Ho Chi Minh City and is now a junior coordinator in Business Ecosystems Digital.
So, having this experience behind them, what waits next for the trainees? What do they find most valuable from their time at Business Fin​​land?
"This is a unique place, where there's an actual desire to help companies become global, and at the same time raise Finnish companies' profile on the world map, as well as boost the innovative environment in the Finnish economy. It's been extremely valuable to get to know the actual work done here and all the enthusiastic people working with us", says Tuukka, for whom this is now the third time at Business Finland, and who is now working in Start-ups development & international funding, Growth Companies.
Anna, who is working in the Global Network, agrees with the sentiment, that the global aspects of the work are among the most rewarding ones.
"Helping companies take the steps to become truly international is something that I find really rewarding, as I'm highly interested in working with different cultures. My first assignment at Business Finland was in Jakarta, and now working in Helsinki has given me great perspective on the whole spectrum of our work. So far I've had plenty of opportunities to continue working on assignments with a global viewpoint, and it is definitely something I want to do in the future too", Anna concludes.
Check out our training opportunities here