Joining the IFI's projects in Southeast Asia?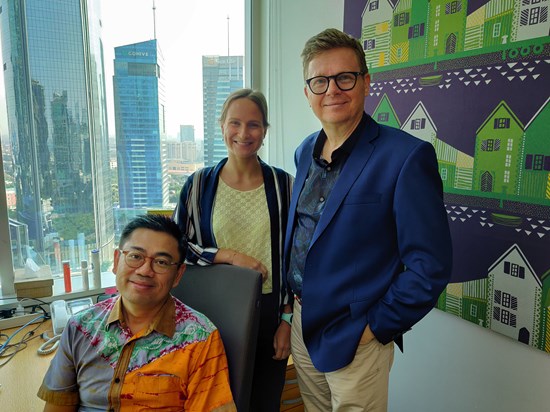 Finnish companies can offer the best solutions in the world to ease developmental challenges in developing countries, but the trade can get bogged down by a lack of financing. Therefore, the projects of international financial institutions (IFI) can provide business opportunities for Finnish companies.
"There is much interest in Finnish high-end technology and service solutions, but the problem in developing countries is that in many cases, buyers are unable to finance them", says Jyrki Härkki.
Härkki works as a commercial counselor to Business Finland in Jakarta, Indonesia. IFIs, such as the World Bank, annually finance projects in developing countries with some 150 billion dollars. One of the most significant contributors is the Asian Development Bank (ADB). It funds projects in its area with 30 billion dollars. Additionally, the United Nations purchases goods and services to a total of 18 billion dollars per year.
Härkki, therefore, urges Finnish companies to target developing countries such as India, Southeast Asia, and Sub-Saharan Africa. Southeast Asia, in particular, is steadily increasing in significance; it is a market with a population of 640 million and an average annual growth rate of five percent.
Real-time information on IFI projects
The global network of Business Finland and the Ministry for Foreign Affairs aims to provide information on country strategies, projects, and funding opportunities for different financial institutions.
"For example, in the country strategy, the development bank defines which industries it will allocate money to over the next five years. Once the targets have been identified, it is easier for Finnish companies to think about what they have to offer," says Christopher Palmberg, development manager at Business Finland.
The primary focus of development banks is usually the energy sector, especially renewable energy solutions, but as emerging countries leapfrog from conventional technologies to the newest technologies, there is potential for growth, especially in digitalization and deep technologies. The magnitude of projects is from 10 million dollars upwards.
The projects of IFIs are guided by the UN's Sustainable Development Goals (SDGs), which aim to eradicate poverty, increase prosperity, protect the environment, and combat climate change.
Get involved in projects through partnerships
The projects of development banks are public and subject to international procurement standards. Tendering defines the technical specifications for what is being purchased. However, the projects should already be influenced in the preparatory phase, as the specification might exclude the technology used by the Finnish company—even if it was better and would save money.
This is due to a lack of procurement and technical expertise in developing countries, and in extreme cases, the specifications may be based mainly on what is provided by a single supplier.
The majority of IFI's projects are won by the local integrator companies in the target country because the buyers want a complete solution, not just one part. That is why Finnish companies must seek partnerships in the target countries or form a consortium that can offer a turnkey solution.
More agility in international financing
IFIs are often perceived as distant, sluggish, and complicated actors. Traditionally, large companies and business consortia have joined the projects in Finland. Small and medium-sized enterprises (SMEs) do not always have sufficient resources since the project preparation phase alone takes six months to two years. However, SMEs can become subcontractors.
At the moment, development banks are revamping their operating models, and the Asian Development Bank's Ventures initiative, for example, aims to help startup companies scale technologies to achieve sustainable development goals.
Business Finland can help worldwide
Business Finland's global network can help Finnish companies by finding suitable projects, opening doors, and presenting solutions to financiers and implementers. However, the key to success is the presence of the company in the target country—through a local partner, for example.
Härkki and Palmberg emphasize that a company needs to come to the target country because it is difficult to start trading from Finland, especially when personal relationships are so meaningful in developing countries.
Developing Markets Platform (previously BEAM Program) helps Finnish companies and their partners develop sustainable business and access global funding in developing markets.
Text and photo: Tanja Harjunniemi, Valuehammerers