These material innovations are bound to change the world
New bio and waste based material innovations will soon change textile and packaging industry. Most promising material solutions were presented on the 5th of June at World Circular Economy Forum's side event Sustainable Materials Changing the World hosted by Business Finland.
Inspirational startups to industry leaders, Finnish companies are busy creating the smart processes, renewable materials and revolutionary products that are accelerating the development of the circular economy at a global level. Often working closely with Finnish universities and research institutions, these companies are at the forefront of the quest for a more sustainable future.
Forest-rich Finland has produced many innovations based on wood biomass or pulp in recent years. Finland's traditionally strong forest industry has become a major player in the development of the bio- and circular economy.
- Crucially, the big pulp and paper companies understood the need to renew and expand their business in the early 2000s. This transformation process has steered them on completely new paths, providing a significant boost for the circular economy, explains Pia Qvintus, Technology manager at VTT Technical Research Centre of Finland and Senior Program partner of the Business Finland Bio and Circular Finland Program.
For example, Metsä Group's bioproduct mill in Äänekoski is the world's largest wood-processing plant, producing pulp and converting side streams into tall oil, turpentine, bioelectricity, product gas, sulphuric acid and biogas. It is also at the heart of the Plänet B ecosystem in which Metsä Group and Japan's Itochu Corporation are building a demo plant for converting wet paper-grade pulp into textile fibres.
Wood-based textiles will transform clothing industry
Leading Finnish energy company Fortum is also active in the circular economy. Fortum's Bio2X biorefinery produces high-value products from agro-residues and woody biomass using fractionation technologies. Fortum is also working with Infinited Fibre Company and Spinnova – two Finnish startups that have the potential to transform the cotton-hungry clothing industry.
Infinited Fiber Company has developed a process technology for turning cotton rich textile waste into new fibers that can be recycled again and again without decreasing the quality of the fiber. The company recently raised EUR 3.7 million from investors that include H&M. Spinnova's unique production method converts pulp directly into textile fiber, using 99% less water than cotton production, without chemical solvents, and with zero waste streams. A fabric made with Spinnova fiber can be reused, recycled or composted.
- We believe strongly in the growth of these pulp-based textiles in the global markets, says Qvintus.
Sustainable packaging is here
With plastic waste filling the oceans, the need for biodegradable packaging is one the urgent global issues tackled by Finnish companies. Award-winning Paptic is replacing paper and plastic in packaging with acompletely new material made from wood fiber that offers high print quality and durability. Sulapac is another Finnish packaging innovator with its biodegradable and microplastic-free material made of FSC-certified wood chips and natural binders, which has already attracted the French luxury house Chanel as an investor.
- It is easy for manufacturers, retailers and brands to shift from plastic packaging to the new materials created by Paptic and Sulapac because they don't need to change their existing machinery, Qvintus notes.
Bio- & Circular Finland program manager Risto Huhta-Koivisto from Business Finland says that circular economy is not just a wishful vision for the future – there is a great deal of genuine business already taking place.
The positive environmental effect of recycling textiles and regenerating the fibers will be huge. There will also be even greater breakthroughs in the future as the processes develop and become more competitive, and wood-based biomass can be used to replace even more products and different kinds of plastics, Risto Huhta-Koivisto concludes.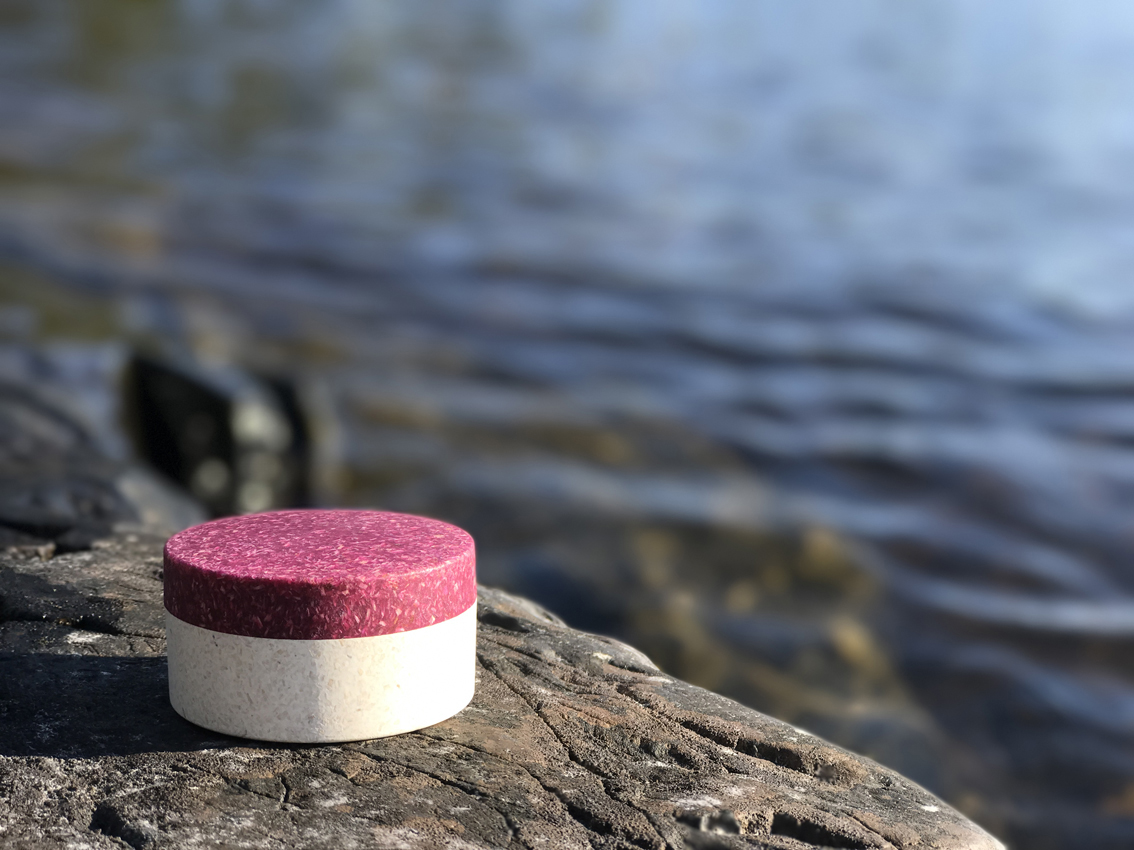 Sulapac's biodegradable and microplastic-free packaging has already attracted the French luxury house Chanel as an investor.
More information
Pia Qvintus
pia.qvintus (at) businessfinland.fi
tel. +358 50 563 4129

Risto Huhta-Koivisto
risto.huhta-koivisto (at) businessfinland.fi
tel. +358 40 343 3347