Äänekoski's Plänet B, a unique ecosystem for bioproduct development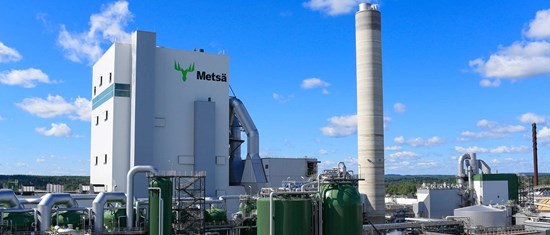 Surrounded by forests and scenic lakes, Äänekoski is a small industrial town in Central Finland with a big mission: to become a globally leading ecosystem for forest product innovations. In addition to being the home of Metsä Group's bioproduct mill – the world's largest and most efficient softwood pulp mill – Äänekoski already has about a dozen other industrial operators involved in the ecosystem that utilises the main products and side streams of the bioproduct mill as well as side products from Metsä Group's veneer, plywood and boxboard factories in the area.
This innovative bioeconomy ecosystem was named in April 2018 as Plänet B (inspired by Äänekoski's umlauts and the role of the bioeconomy in saving the Earth), with strong backing from business, the regional authorities and the Finnish government. According to Plänet B, it is committed to attracting and supporting a range of bioeconomy and circular economy startups, SMEs, established industrial companies and service providers across such diverse fields as production, logistics, maintenance, process programming, robotics, electrical and automation technology as well as hotel, restaurant and travel services.
Wide range of bioproducts
The current output of Metsä Group's bioproduct mill includes pulp grades, tall oil, turpentine, product gas, sulphuric acid, bioelectricity, steam, district heat and bark fuel. Other products with business potential derived from the bioproduct mill in the future include lignin, biocomposite and textile fibre. Products from other industrial Plänet B operators currently include, for instance, veneer, folding boxboard, cheese, a pulp-based chemical (CMC), pigment made from carbon dioxide, biogas, biofuel pellets and oxygen as well as bioenergy in various forms.
"Plänet B is today already a comprehensive industrial bioeconomy ecosystem. The current dynamics, backed by good infrastructure, a broad competence pool, and the ambition of the existing players to find new partners create new opportunities for investors and industrial as well as service-focused companies of various size," says Niklas von Weymarn, CEO of Metsä Spring, a new innovation company established by Metsä Group.
"For example, replacing plastics with bio-based solutions is an area with huge potential in view of the low recycling rate of plastics and the problems caused by microplastics. Wood construction and new digital solutions are also very promising areas."
Metsä Group plans textile fibre demo plant
Metsä Spring is planning a greenfield demonstration plant for a new environmentally-friendly textile fibre production method using wet paper-grade pulp as the raw material. The investment decision for the construction of the plant is expected by the end of this year. The new plant would have a capacity of about 500 tonnes of staple fibre per year and be integrated with the bioproduct mill in Äänekoski.
"The Plänet B and Metsä Group's own existing infrastructure in Äänekoski offer a unique operating environment and platform for developing new bioproducts. The ecosystem has different types of companies with diverse know-how. Äänekoski has a well-educated workforce and is located in the middle of the best wood procurement region, close to the university city of Jyväskylä. The logistical connections include an airport and a rail link to Vuosaari Harbour in Helsinki," says von Weymarn.
PLÄNET B -FOR BIOECONOMY AND CIRCULAR ECONOMY STARTUPS!
Explore the business potential on Plänet B
Plänet B's ecosystem exemplifies the attractive platform that Finland offers for the development and production of new bio-based products, according to Jari Tielinen, Project Manager, Business Finland, Invest in Finland unit.
"Finland has a thriving bioeconomy cluster with world-class competence – it is the ideal location for companies to kick-start their operations and gain access to interesting growth and partnering opportunities. The growth of the bioeconomy sector is also underpinned by Finland's abundant feedstock resources and supportive government policies," says Tielinen.
Plänet B is supported by Finland's Ministry of Economic Affairs and Employment, Ministry of Agriculture and Forestry, local development company Ääneseudun Kehitys, Regional Council of Central Finland, Varma Mutual Pension Insurance Company and Metsä Group.
Image: Metsä Group